On 8 July 2023, a major new outdoor lifestyle centre opened in Montgomery, Alabama. A project several years in the making, Montgomery Whitewater is now bringing whitewater and other water sports thrills to the city, in a drive to promote economic growth, improve residents' quality of life, support ongoing tourism development, and increase Montgomery's appeal to a wider workforce – one that places a premium on quality of life when choosing a place to live and work.
The centrepiece of the development is an Olympic-standard, recirculating whitewater course. This will offer beginner to expert-level challenges to people of all ages and ability levels. A Class II whitewater experience is delivered along a 2,200-foot Adventure Channel that mimics a natural river, acting as a great introduction to the activity. Meanwhile, the 1,600-foot-long Competition Channel is an excellent playground for those with more experience.
The course also has training sections appropriate for commercial operations and a standing wave surf element.
The next development phase will see the addition of dry-side outdoor pursuits like hiking and bike trails, climbing walls, ziplines, and ropes courses. Montgomery Whitewater can host festivals, competitions, and weekly events. It is also home to hospitality features such as a conference centre, cabanas, and other meeting areas. Camps, team-building activities, and first responder training for swift water rescue are all possible at the venue.
This transformational project was the result of many expert teams working together to make the initial vision a reality, from leaders in design and architecture to skilled specialists in water engineering and filtration. To find out more about the process of bringing Montgomery Whitewater to life, and to learn about what it means for the region, blooloop speaks to some of the industry leaders that made it happen, including Cloward H2O, S2O Design, Liquid Design and Motus Management.
Getting the teams together
Montgomery Whitewater was initially the brainchild of Megan McKenzie. A Montgomery local, she wanted to put her city on the map.
McKenzie's vision was for Montgomery to have a place where people could play, somewhere that would bring in people from out-of-town and make the city a more exciting place to live. McKenzie's sister paid a visit to the new U.S National Whitewater Center in Charlotte, North Carolina, and the idea for Montgomery to have a whitewater centre of its own was born. 
Following some early meetings with city officials, she was advised to gather the best team of experts that she could, in order to bring this idea to life. So, she assembled a team of designers, engineers and managers, with both the experience and the know-how to work on such an ambitious project. 
Jeffrey Gustin of Motus Management, the owners' rep/project manager for Montgomery Whitewater, explains:
"Like many project types, the success of the project comes down to the quality of its team. Montgomery Whitewater was led by S2O Design, the worldwide leader in manmade recirculating whitewater parks. Accompanying, and of equal professional expertise, were both Liquid Design and Cloward H2O. They provided key architectural and water engineering expertise, gained through multiple similar project executions."
Designing the experience
S2O Design and Engineering was the lead designer for the Montgomery Whitewater project. The firm was responsible for the design and layout of the channel. 
Scott Shipley, founder and president of S2O Design and Engineering, is no stranger to the world of watersports. He competed in three Olympic games and has four world titles under his belt as a slalom canoeist. His firm also designed the U.S. National Whitewater Centre and the London Olympic Whitewater Park. 
"The great thing about this project was that it was the culmination of the lessons learned on all these other projects that we've worked on," says Shipley. "Having that strong team that could rely on was a huge part of that of that process. 
"Montgomery Whitewater is something that we're super proud of. It was about an eight-year process to get this project from inception to construction. So, it's the culmination of a lot of effort and work."
The benefits of Montgomery Whitewater
Talking about the benefits that the new centre will bring to the region, Shipley adds:
"The nice thing about Montgomery Whitewater is its location. This is a project that was created to serve as a catalyst for the brand, and especially the tourist brand, of the city of Montgomery. On the one hand, we've created a whitewater park that is a place of fun and recreation. But it's also serving to redevelop a part of town that needed redeveloping and to revitalise a tourist industry that needed revitalisation."
"In addition, this facility brings a lot in terms of functionality and excellence to the United States watersports programme. This is our newest and most advanced whitewater channel. It's also in place now, roughly five years before the USA-hosted Olympics in 2028. It's a great place for athletes to come and prepare for those games."
However, the location also presented the teams with a challenge, explains Shipley.
"This is a site that was cobbled together in the middle of a city. And so, as we gathered the land parcels, some from the US government, some from private ownership, some from the city, one of the bigger challenges was to create a design that functioned on the land we already had, but also anticipated the land we thought we would get. That allowed us to be efficient with our timing.
"One of our bigger challenges was fitting onto that postage stamp that we had, but then making that seamless as we went into land construction with a whole site."
Creating a space that caters to all
For the project architect, Liquid Design, the key challenge was transforming this parcel of land into a space that served a lot of different user groups and varying occupancy counts, from weekday activities to large weekend festivals and competitions. This meant that the firm needed to design spaces that were flexible and multi-functional. The spaces also needed to be efficient for the staff to operate for any given user experience. 
"Montgomery is the latest generation of man-made whitewater," says Michael Williams, co-owner and president at Liquid Design. "S2O Design & Engineering creates very efficient and powerful moments in the water for the boater to experience. They are masters at shaping the water to create a certain user experience while rafting or whitewater kayaking. But none of this would have happened without Cloward H2O's engineering experience and understanding of how to move the water, super clean water at that, from point A to Z. 
"While the engineers were working their engineering magic, Liquid Design was busy creating architecture that supports a sense of place through the built environment. We focus on these unique project types not only to support the active participant but also to be a place to come and experience, as an observer, a place for community to foster and grow. 
"They are unique places to hang out, enjoy food & beverages, people watch, and most importantly entice you to try an active outdoor activity. To achieve this, we start early with the placement of the various buildings and how they are incorporated into the masterplan. Especially with key whitewater features along the channel system. Working with the entire design team, we identify ways to maximize the user experience both passively and actively."
A social experience
Liquid Design's top four main architectural design features on the Montgomery Whitewater project are the large canopy system at the main entrance, the restaurant patio placement, the beer garden, and the trip talk pavilions. 
"We designed a unique canopy system, with large timbers for columns. This creates a shaded space that connects the two main buildings for the project," says Mimi Williams, senior project architect at Liquid Design. 
"This canopy acts as the living room for the project. It will be a popular spot during the hot summer months. The placement of the restaurant patio was very important to us as well. We worked with the engineering team to have some of the most exciting whitewater located in this area. This maximizes the visual experience while enjoying food & beverages with friends. It's a unique experience where the active and passive environments come together. 
"It's an experience that you can't get anywhere else."
Clear water for Montgomery Whitewater
As Michael Williams says, Cloward H2O's engineering and filtration experience is key to the guest experience.
Cloward H2O provided engineering services for the pump station, upper and lower basins, river channel structural and waterproofing. It also worked on whitewater flow circulation pumping, water quality management systems, and control and automation systems. Finally, the firm provided as several speciality items such as conveyor systems, slalom gates, and obstacles within the course.
Corry Cloward, president at Cloward H2O, says:
"Clear water starts with the mechanical system. You've got to have great filtration and effective circulation. It's got to be the right filtration for the specific application so that we remove all the particulates from the water. The water chemistry, turnover time and circulation of the water must be correct to keep the entire water body clean through all conditions. 
"With any project our team does, we make sure it is designed correctly for the specific needs of the client. Cloward H2O has been in business for nearly 50 years with over 1000 successfully completed projects around the world. Water Perfected is what we're all about, in terms of water quality certainly, but also in regard to all aquatic-related engineering.  
"In this, the Montgomery project is no different than any other we engage in. Go to Montgomery and look at the water, it is crystal clear, and it looks awesome."
Conserving water
One of the key challenges for Braden Steiner, project manager with Cloward H2O, and his team, was trying to figure out a way to conserve water:
"We knew we were working with a large body of water. So, we needed a solution that would filter it and it clean and flowing, without losing too much water. That meant we needed to figure out a layout that would work with the landscape, and that would be conducive to keeping the water as clean as possible without wasting it. 
"We worked with landscaping to help them understand grading-wise how to keep runoff from coming into the pond and washing dirt and pollutants into the pond itself. Plus, we worked with the civil engineering team to help them understand how to drain all that runoff away. Then on our end, it was about recapturing dirty water and cleaning it and putting it back into the pond."
The Cloward team knew from previous projects that one of the biggest water losses is in backwashing. Particularly when there is such a large amount of water to clean.
"So, we implemented a backwash recovery system that takes all that water and cleans it, losing only around 5% of that total backwash volume. That's a major reclamation." 
If this backwash recovery system was not in place, Montgomery Whitewater would lose about 14,640,000 gallons of water every year due to filter backwash. In comparison, with the backwash recovery system in place, the venue will only lose about 480,000 gallons of water every year to backwash. The holding tank is also used as a fill system for makeup water recovery due to evaporation and other losses. This system reduces water loss by around 95%.
Reliable filtration for Montgomery Whitewater
The filtration solution put in place by Cloward H2O uses 24 high-rate horizontal media filters. The use of Activated Filter Media (AFM) instead of sand allows filtration to get down to around one micron of ozone, and chlorine at 18,000 gpm total treatment flow.
"The AFM allows us to get to a finer micron and get some of those smaller particles out, improving clarity," explains Steiner. 
In addition:
"The system requires a large mechanical room with a lot going on. So, we also integrated an intuitive automated monitoring system, to help the process go smoothly for the maintenance staff."
With so many people using the facility, the reliability of the system is key.  
"There's redundancy everywhere. The system is designed to handle the heaviest, worst-case load. But we found that running under normal conditions, they can almost run at 50% and maintain the water quality. Then when they do get a severe load, they can ramp it up and handle it quickly. So that was one thing that they were happy about. They have a lot of extra capacity to do what they need to do."
Allen Clawson, principal at Cloward H2O, adds:
"Montgomery Whitewater highlights the skills of our team in many aspects. This is a 4th generation design for our team. It's a complex project with many unique constraints and requirements, but not outside of our experience. The massive size of the aquatic elements, the volume of water involved, the many complex structural elements, mechanical systems, power delivery, and controls all required considerable expertise to get the engineering right. 
"Our approach with any project and client is to use sound engineering principles to make it work. Whatever you have, we will figure it out and that's exactly what we did."
Highlights of an eight-year project
Any project that is as complex as this one is bound to have challenges. Especially when a global pandemic happens in the middle of construction. 
"Projects like this are unique in nature," says Gustin. "Many of the key elements are critical to its success, including patron safety, regulatory controls, and water quality. As the project is led by industry professionals that have addressed, most if not all, engineering issues during design, the most challenging aspects of the project arise during construction, specifically addressing new material applications and processes."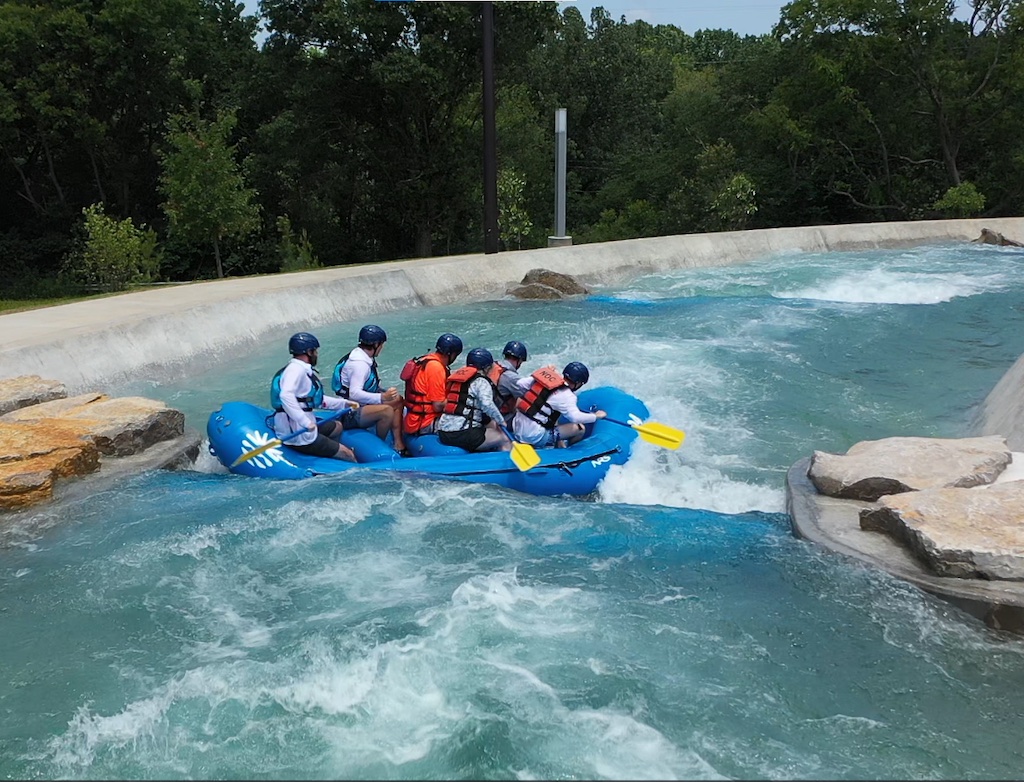 "Through close coordination with the design team, the construction team was able to work through these issues and maintain a two-year project schedule without missing the targeted opening."
There were also highlights along the way. For Steiner, one key moment was when the team knew that what they had set out to achieve on paper had worked in reality:
"A definite highlight was turning the system on. We were then able to see how the number crunching had resulted in this system that worked the way it was designed to. In the end, the filtration system outperformed what we expected it to do.
"These are my favourite types of projects, these large, unique projects. It's fun to be one of the key players in such an iconic destination. That's what gets me excited. It's going to bring a lot of real value to the area and attract more people to the area too. We're excited to see where that goes."
Montgomery Whitewater opens to the public
The other project team members also agree that seeing Montgomery Whitewater open to the public, and seeing it being used and enjoyed, is the biggest highlight:
"I love seeing the facility in operation and watching people come on-site for the first time. It always seems to generate a smile of delight & surprise," says Mimi Williams. 
Michael Williams adds:
"Early in the design process, I encouraged the architectural design team to focus on creating a design solution that focused on building up a community by creating spaces that brought the participants together. 
"Whenever you achieve something together, such as rafting down class III / class IV whitewater, you create a "friendship bond" with others who have experienced it with you. And that's where the food & beverage comes in. Sitting around together reliving the experience, telling stories, and planning the next trip, that's what forms community. After seeing the venue in full operation, I'm convinced that the designed environment can foster that goal. Now it's up to the citizens to develop that inclusive community." 
A popular new destination for Montgomery
The centre held a grand opening in July. Since then, it has been met with nothing but high praise from both locals in Montgomery County and visitors alike. 
"While the project is in its initial operating stages, phase two elements are already being planned. This includes additional land sports, retail, a distillery, and a 120-key hotel," says Gustin. "The highlights of this project, initially named the "catalyst", are doing just that by proving that public money for the whitewater project, is providing a central hub for the project will spur private development to Montgomery County expanding its quality-of-life goals."
"People across the board love the whitewater park," adds Shipley. "It's been a real success. It's also achieved its stated purpose, which was to encourage development in that part of town. The biggest highlight was the grand opening. That's when we were able to roll this thing out and show people what had been created for them, for their community. That was fantastic." 
Southern Whitewater Development Group is the developer and operator of Montgomery Whitewater. The project was made possible by state, local, and community leaders who formed the Montgomery County Community Cooperative District. This partnership was led by The Montgomery County Commission, the City of Montgomery, and the State of Alabama.