It's been almost a year since the Embassy Room restaurant shifted its food focus to all things Catalan, allowing Chef Ferran Tadeo to present the myriad flavours of his native land in a spectacular fine dining setting.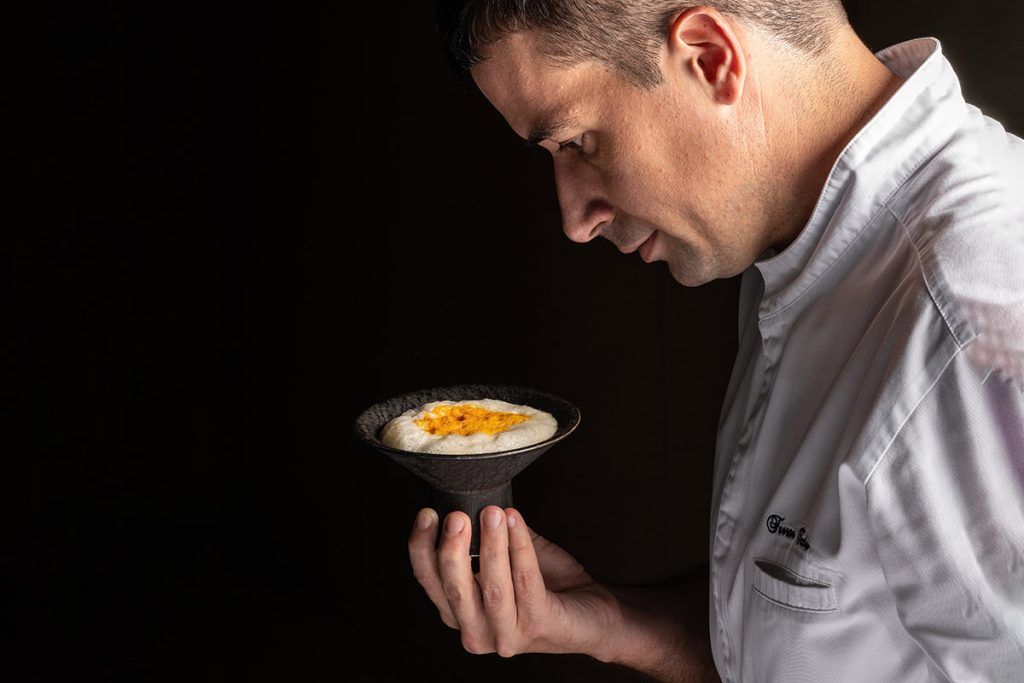 Located within Park Hyatt Bangkok, on the hotel's 9th floor lobby level, the Embassy Room exudes elegance and opulence at every turn. The design – courtesy of the firm Yabu Pushelberg, who handled the hotel's interiors – is a study in calm sophistication, with a colour palette of light, natural earth tones offset by soaring ceilings and equally tall windows that let in plenty of light. The seating, meanwhile, is a mix of spacious, semi-circular dining booths and larger group tables, a few of which face the large open kitchen area where a sizeable staff busily tends to flaming grills and boiling pots.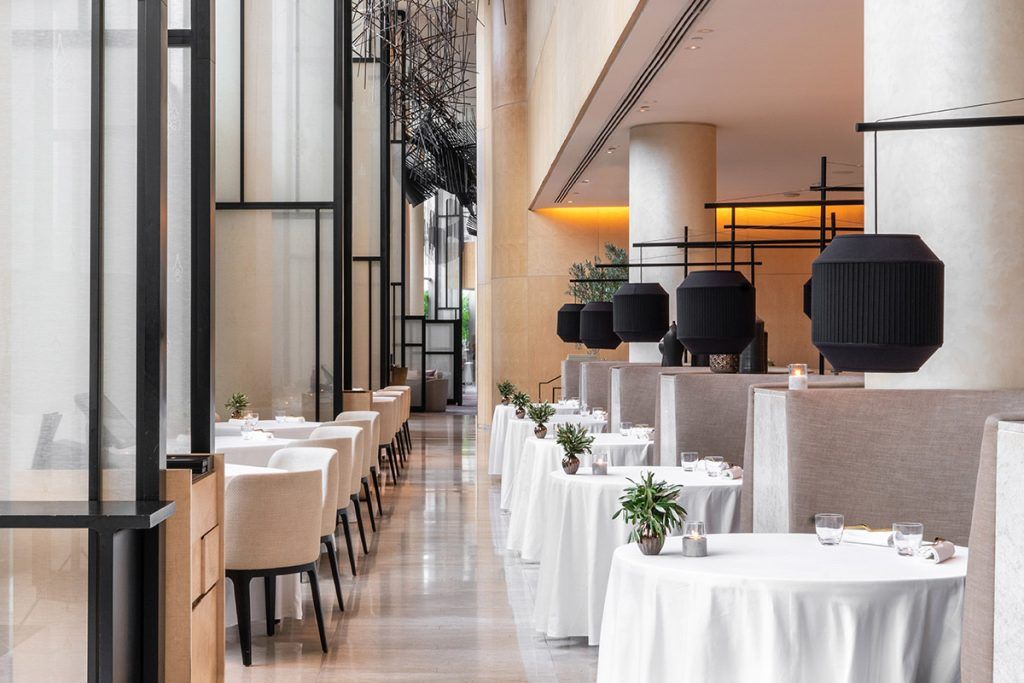 Overseeing everything is Barcelona-born Ferran Tadeo, whose impressive CV includes stints at El Bulli and, most recently, at Hong Kong's La Rambla by Catalunya. It's been just over a year now since he relocated to Bangkok, and in October it will be one year since Embassy Room introduced its new culinary concept, putting its food focus on all things Catalan. Catalonia, for those who need a geography lesson recap, is an area of northeastern Spain that encompasses Mediterranean beaches, the Pyrenees Mountains, and Barcelona, the regional capital.
"Spain has many varieties of cuisine," explains Chef Ferran, when asked how the recipes of his native region differ from the rest of the country. "Catalan is more Mediterranean, like Italy or the South of France. There's more fish, lots of vegetables, and lots of olive oil. We don't use that much butter, so it's not that heavy."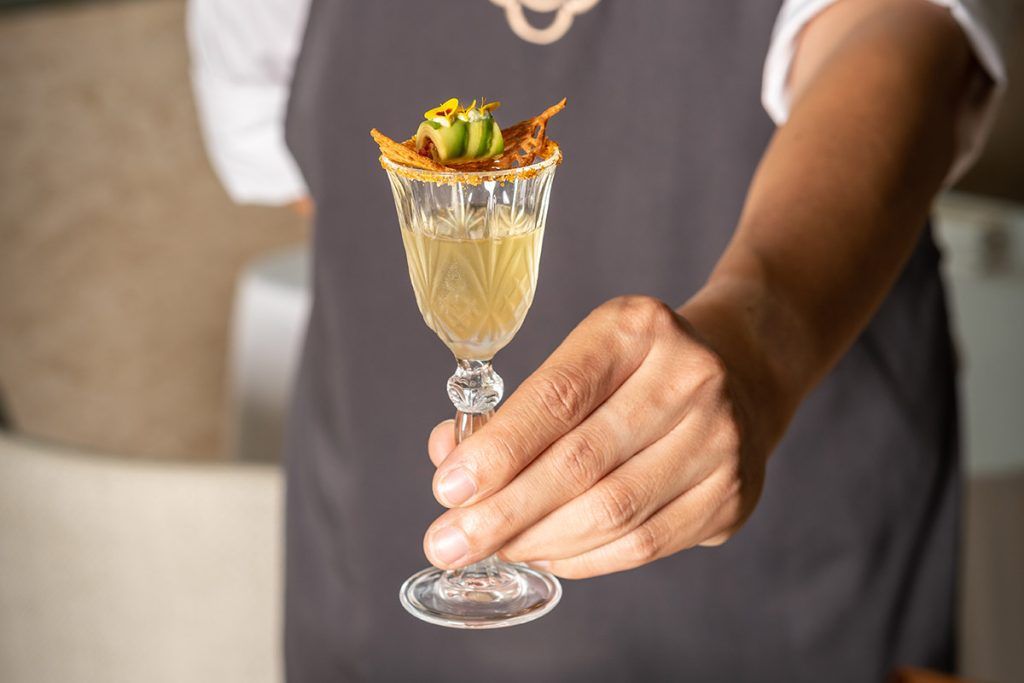 For a gourmet glimpse into the glories of Catalan cuisine, the multi-course 'Tradició I Evolució' tasting menu at Embassy Room is a perfect introduction. Things begin, however, not with food but with a savoury cocktail shot – a blend of tequila, Tio Pepe Spanish wine, tomatoes from Chiang Mai, and a few other surprises – elaborately prepared tableside. "It awakens the palate," our server points out, and it's certainly awakened our interest too.
Within moments our table begins filling up with an array of aperitiu, one- or two-bite nibbles that include a burst-in-the-mouth olive bon bon made with olive butter and filled with sour olive juice, and an avocado and tomato wrap resting on a leaf-shaped, parmesan tuile. Both are supremely tasty, but it's the "bikini" sandwich that gets my undivided attention, filled as it is with comté cream cheese and topped with glistening shavings of Iberico ham.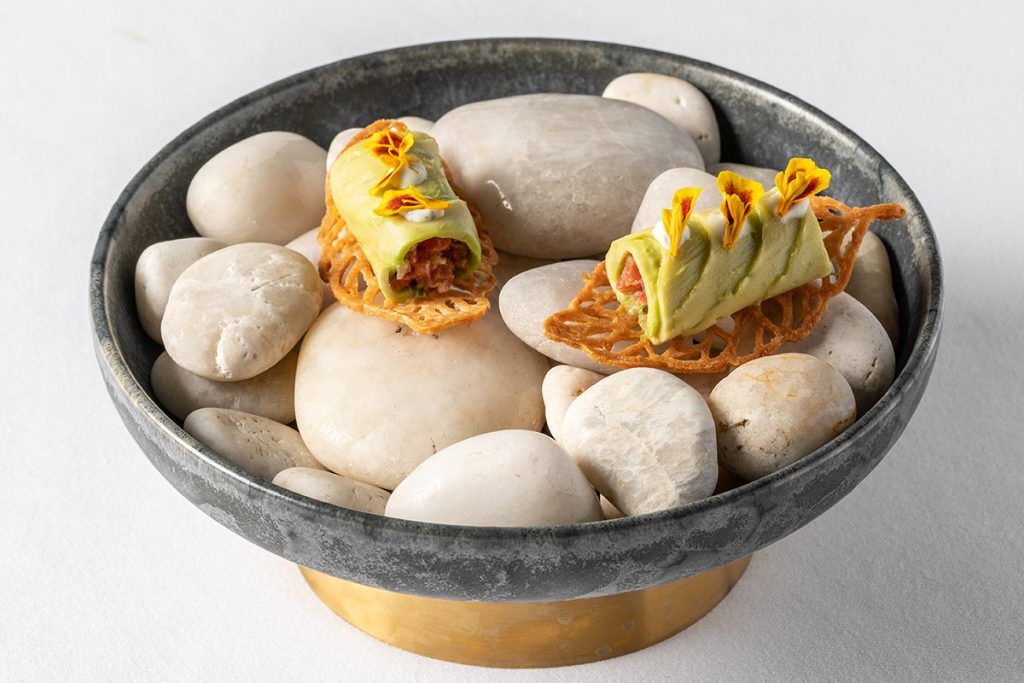 Rounding out our quartet of beautifully plated starter bites is the pollastre I escamarlà, a mix of smoked langoustine, aioli sauce and pancetta, all resting on a crispy chicken skin cracker, which Chef Ferran says nicely encapsulates a key flavour profile in Catalan cuisine.
"The most emblematic dish is mer et montagne [or mar i muntanya in Catalan language] which refers to 'sea and land' together. Here we do chicken skin with langoustine, which is based on a very traditional dish. Normally it's a stew, but I twist things a little bit to make it into a snack. One of my favourite things to cook is this sea and land mix, so you'll find maybe pork and fish as well. In Catalonia you can be near the sea, but in one hour you can be in the middle of the mountains."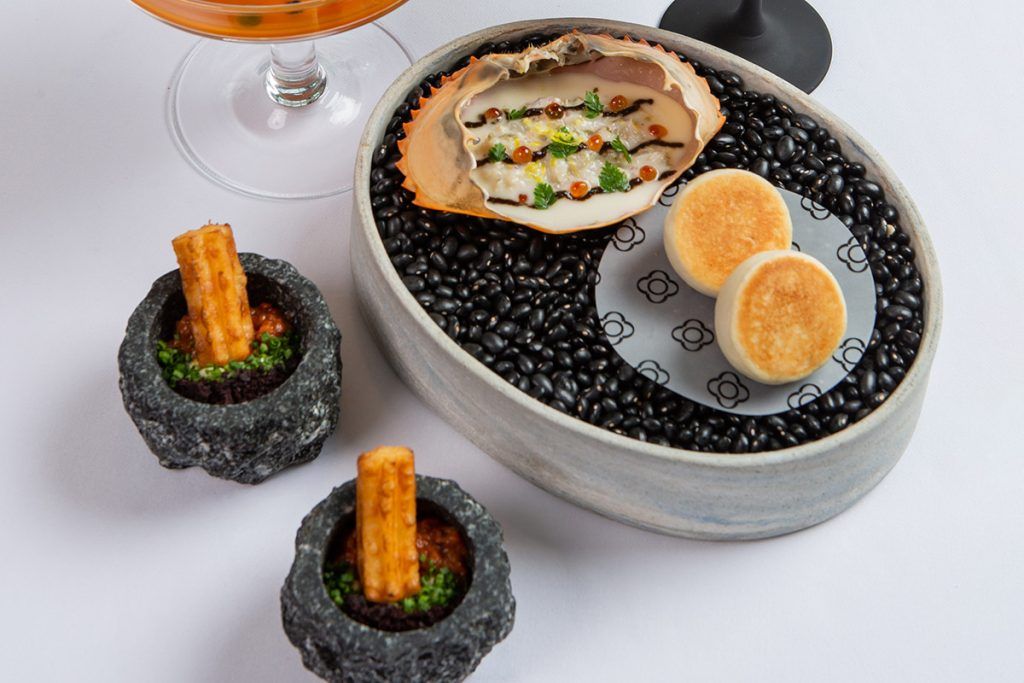 The next quartet of simultaneously served dishes are all seafood-centric, so the wine pairing of a toasty 2018 Cava Gran Reserva Brut Nature Reserva de la Familia makes perfect sense. It nicely enhances the sea crab salad with almond ajo blanco sauce – served with Chinese bao buns – as well as the absolutely marvellous codfish mousse served with chopped olives, chives, salsa and… churros?!
"With churros you normally think of chocolate, but here it's a little different," the chef says with a sly chuckle.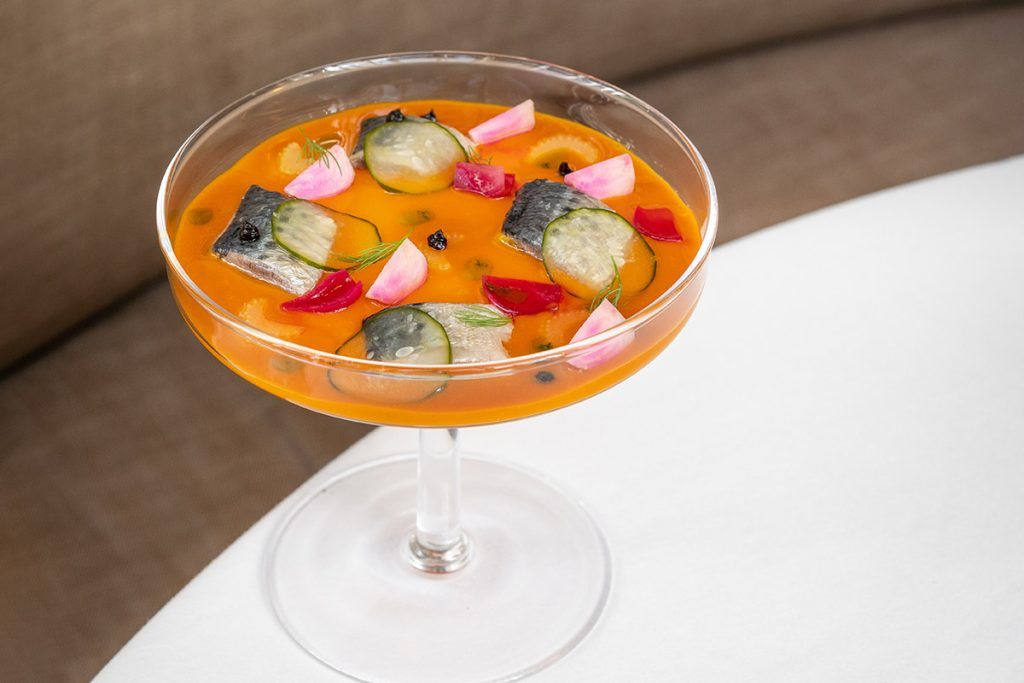 The other two dishes here are notable as much for their taste as their plating, starting with Japanese sardine resting in a pool of vivid orange carrot escabeche, all enclosed in a wide-bowl, parfait-style glass. This eye-catching entrée is rivalled, however, by the seabass and scallop ceviche served in a black and gold goblet, which receives a pour over of clarified gazpacho from a crystal decanter.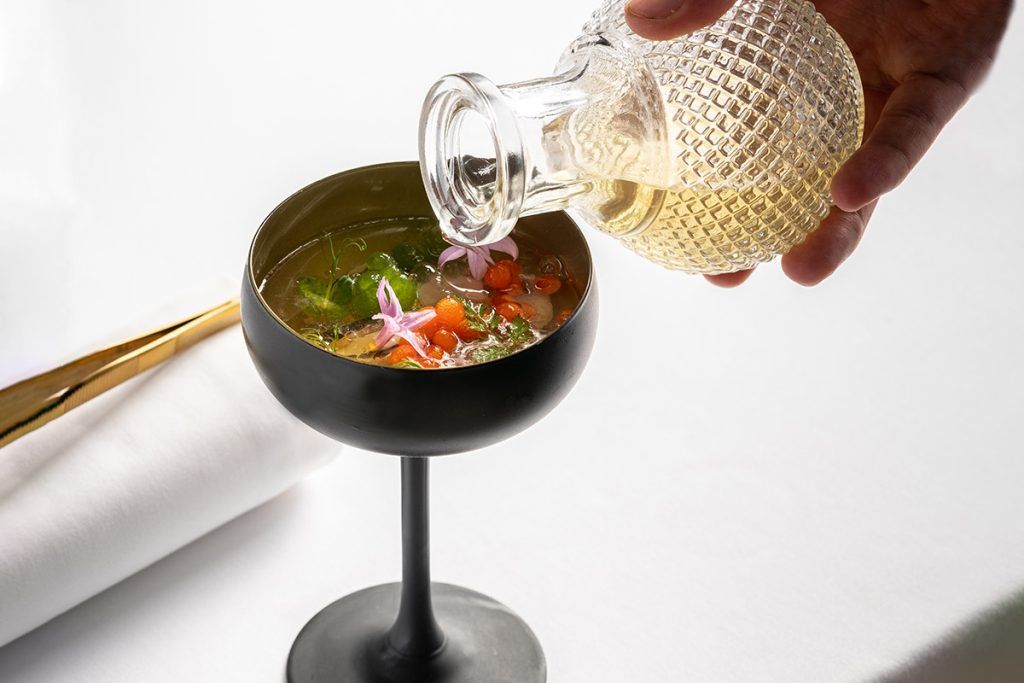 To get this clear liquid requires some kitchen wizardry, as the chef points out. "We freeze the gazpacho and then defrost it, so it has more intensity. From maybe five or six litres we get 1.5 litres of the clear soup. So we stick to the traditional flavour profile, but we change the recipe and use different techniques."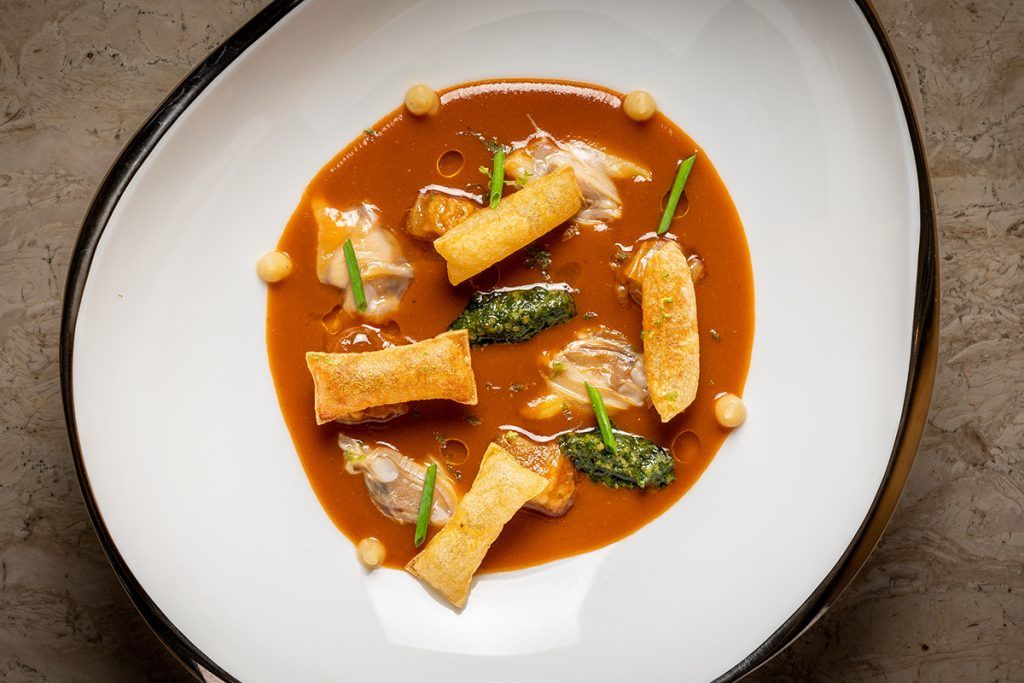 The third set of multiple dishes to arrive en masse at the table is presented under the title platillos, or "plates", and it dutifully checks a lot of fine dining boxes. Clams and beef tendon are presented in a marinara sauce, accompanied by caviar and crispy pillows of pomme souffle; a lobster 'bolognese' incorporates Joselito ham, pork belly and chorizo, and comes garnished with parmesan foam; and a dish of Krystal caviar, eel, and egg yolk proves to be as decadently delicious as it sounds. But for me the most visually striking is the squid in jet black squid ink, served on a contoured white plate with a sprinkle of verdant green peas.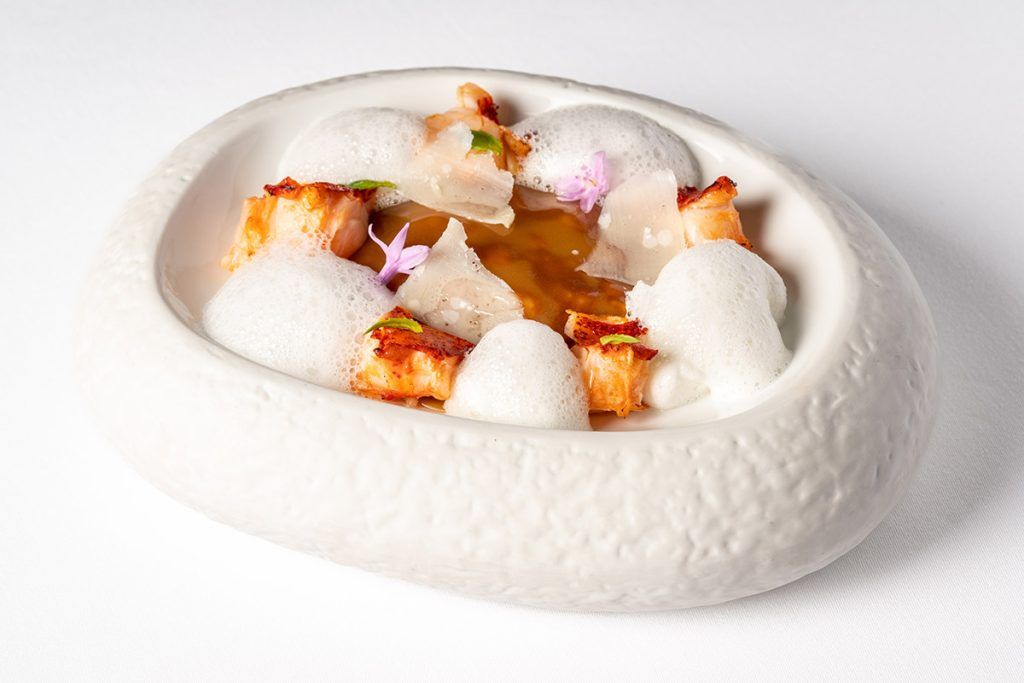 "It's based on a traditional stew," says the chef of this last dish. "We buy high quality squid, pan fry it, put the sauce on top and some caramelised onion to make it sweet. Very, very simple."
While the white wine pairing for the last set of dishes was a tangy 2019 Remelluri Rioja Blanco, with ample minerality and notes of stone fruit, the white for our upcoming course is a 2015 Astobiza Malkoa made with Ondarrabi Zuri, a grape varietal native to Spain's Basque region (which lies north of Catalonia). I feel as though we're getting a bit of a masterclass in lesser-known Spanish wines, so I ask Chef Ferran if he has a role in choosing the labels.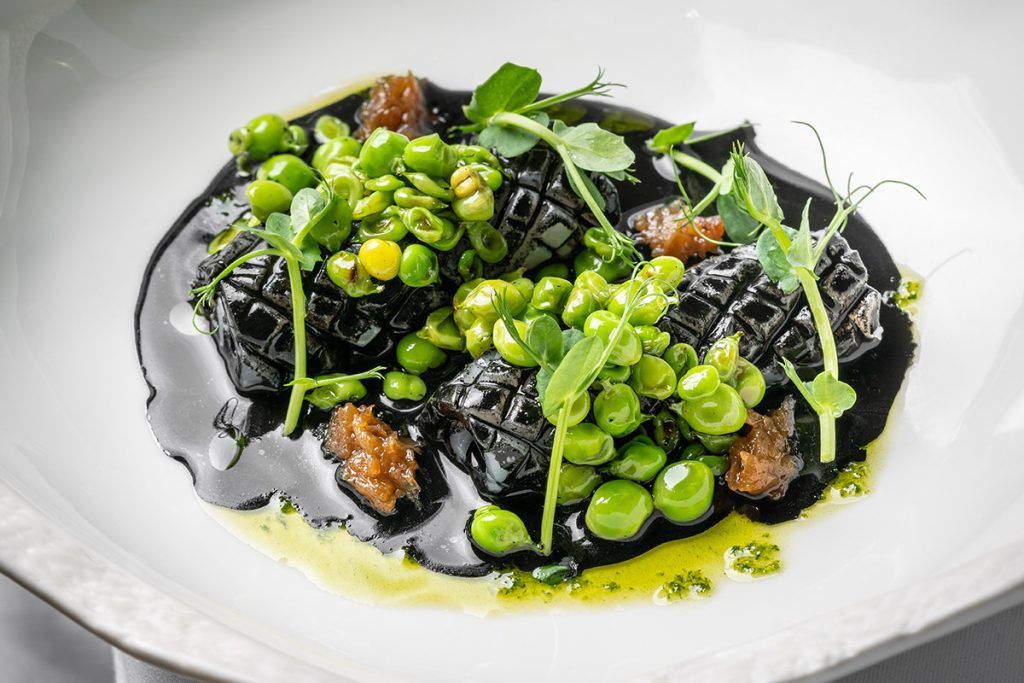 "I normally help them a little bit because it's very tough to do a wine pairing when we present a lot of dishes at the same time, with such different flavour profiles," he says, adding that the Basque and Catalan wines used are usually from small production vineyards with specialty grapes.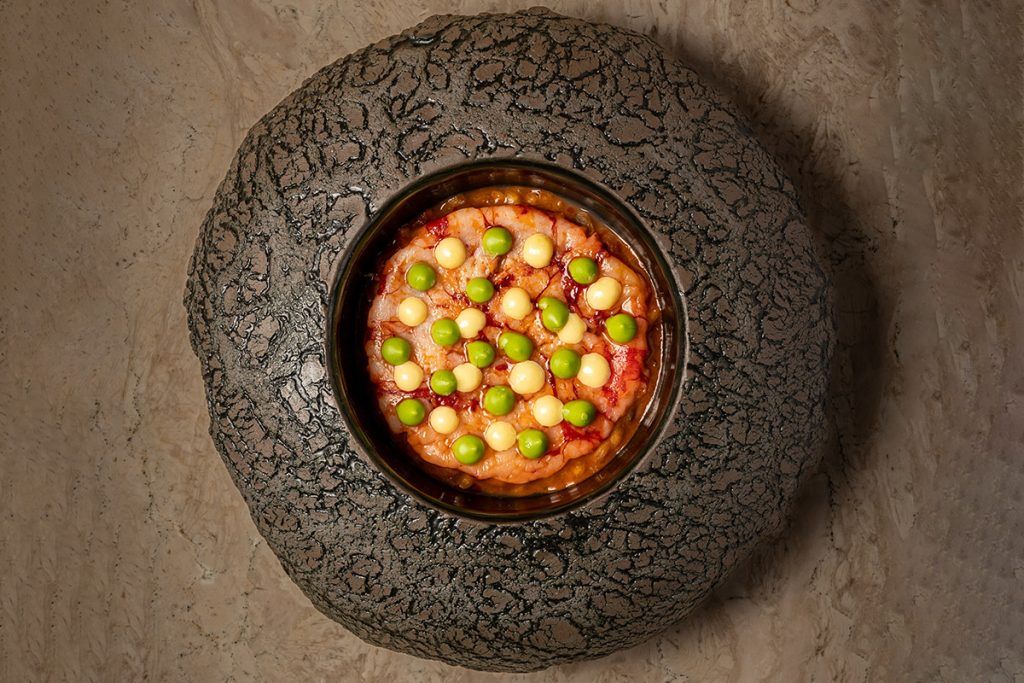 The dish accompanying the Basque wine is an elaborate one, with Mediterranean red prawn, bomba rice, green pea purée and aioli sauce all combined in a beautiful black bowl – still hot to the touch – that looks as though it was fashioned from lava rock. Accompanying the dish is a crystal wine glass containing a bisque-like saffron sabayon made from the head of the prawn. For the final main we are treated to Iberico lamb, which the chef considers "one of the best in the world".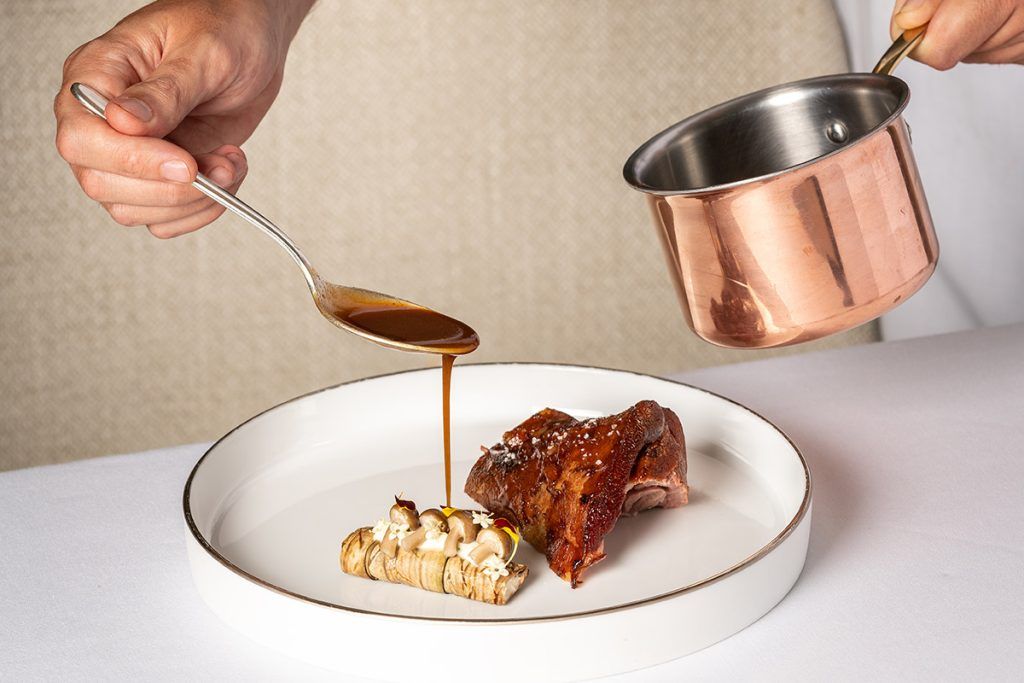 "It's not that gamey, like New Zealand or Australian lamb" he points out. "In Spain we have big lambs, but normally Iberico lamb is small, and they are still being milk fed at the time of slaughter so the flavour is nicer, similar to veal."
Sharing the plate with this tender cut of 22-hour slow-cooked lamb hind we have eggplant stuffed with mascarpone and topped with mushroom and edible flowers. Add to that a final pour over of exquisite jus and you've got the perfect main course finale. As for the wine – the first red of the evening – it's a hearty 2005 Masos d'en Ferran del Tros d'en Pigat made from Carignan, a Spanish grape varietal also popular in Southern France.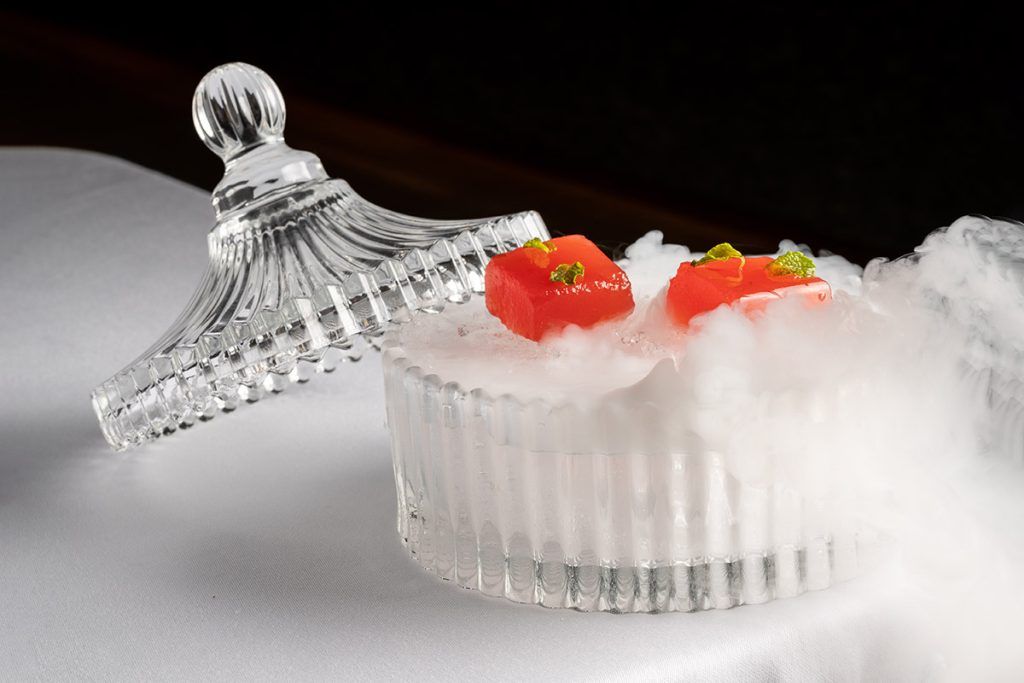 The sweet courses begin with a showy frozen watermelon jelly, prepared with a dash of Don Julio tequila, followed by strips of thin and crunchy fried dough which you can cover with as much flavoured icing as you want. And by the time we finish off the last of our petit fours – distributed on the branches of an ornate metallic tree – we're also on the final sip of our 2015 Casa del Inca – a wonderfully rich dessert wine, with distinctive notes of raisins, prune, and molasses.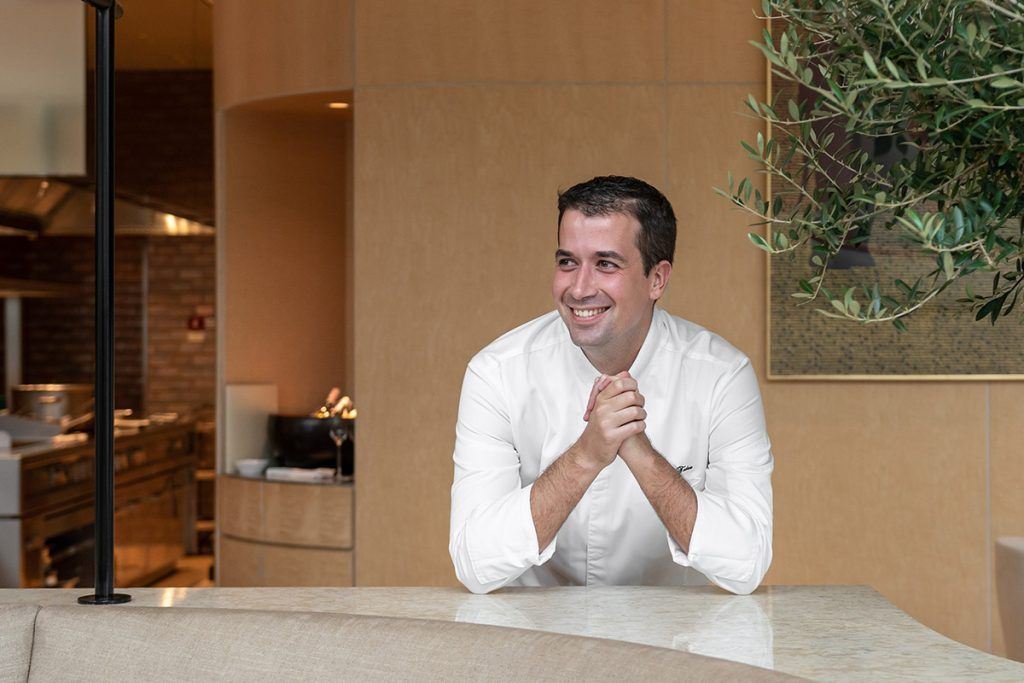 As we wind up our memorable meal, and I finish my post-dinner chat with Chef Ferran, he suggests that if my interest in Catalan cuisine has been piqued then I should also try the equally lavish Catalan Sunday Brunch he does at Embassy Room each weekend. All I can say is, "fabuloso!".
For bookings, visit Embassy Room restaurant.