Deep in the thickets of the Essex countryside, a grand institution goes about its vast, mysterious business. JS Wright & Sons is into its third century as the world's principal provider of willow for cricket bats. In an average year, they source and dispatch 400,000 clefts – blocks of willow – to all corners of the global batmaking market. That's three-quarters of the world's cricket bats.
Wright's dominate their part of the industry, sourcing wood from around 2,000 farms in the UK and selling it on to companies that turn it into cricket bats. The company sprang up by accident, on the back of a chat down the pub, when a local builder called Jessie Samuel Wright was asked if he knew where the local willow trees were. Jessie did, and discovering an abundance of wood in the surrounding countryside, he figured he could make more money dealing willow than laying bricks. It was 1894. Jessie was soon supplying wood for WG Grace's bats.
The fundamental dimensions of a cricket bat have barely changed since. While recent advancements in pressing techniques and wood-drying have led to the depth of bats expanding to such an extent that the MCC introduced restrictions in 2017, the width of the bat face, at 4.25in, long predates WG's day.
As does the pre-eminence of English willow. "It's the lightness in weight and its strength," says Jeremy Ruggles, Jessie's great grandson and now the main man at Wright's. "It's a soft wood with hardwood properties. It doesn't take up moisture after it's dried and has a good weight-per-volume ratio." Kashmir willow, which is popular on the subcontinent, is heavier. "English willow is the best and luckily it only grows here."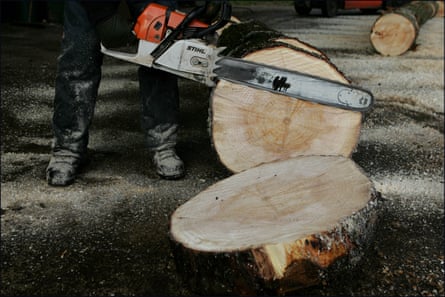 Olivia Smith runs Broxted Hill Farm in north Essex, a four-generation family business that grows willow for Wright's. The week before we spoke, they had 13 good quality willows harvested, each of which will produce about 40 bats. Wright's will replant free replacements this winter at a ratio of three to one. "They guarantee buy back when trees are mature and so the cycle goes on," she says.
The benefits are threefold. "Naturally there is a financial reward, as the trees require minimal maintenance and provide good use of otherwise unproductive meadow ground. Environmentally, we're always looking for ways to move away from intensive farming and focus on regeneration and soil improvement. Willow planted along our streams offers a natural system of riverbank restoration and soil stabilisation. Our rare-breed sheep and goats love to browse on willow leaves. It offers a valuable variation to their diet.
"An interesting environmental aspect is the carbon sequestration. By recycling the timber into cricket bats it ensures the carbon is absorbed, withheld and not released back into the environment. Furthermore, every tree planted creates its own ecosystem during the 20 years it is growing, helping local wildlife and biodiversity. And then, of course, in the end, we're offering sporting benefits. Win win."
Of the 400,000 clefts Wright's produce every year, 340,000 are shipped abroad, predominantly to the Indian and Pakistani markets, where the English version is still king despite the preponderance of Kashmir willow. Demand for English willow is outstripping supply, says Ruggles. "We could do more if we get more trees. We didn't anticipate [the scale of demand] 20 years ago, so we didn't plant enough – in the last 10 years we've planted a lot more, and in the next five or 10 we could probably double production if we needed to. We're anticipating huge increases in the years to come to satisfy all markets."
Not all batmakers in the UK buy their wood from Wright's. Gray-Nicolls has begun growing and felling their own willow, as has Gunn & Moore, two English batmakers with colossal, longstanding reputations. GM was formed two years before the first ever Test match, and Gray-Nicolls 30 years before that. They have the heft to develop and sustain their own supply chain.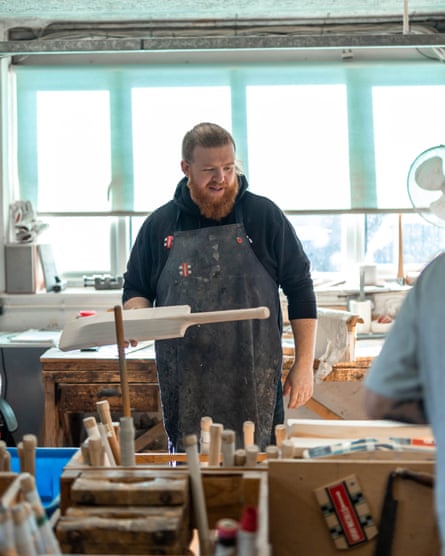 Any slight drop in quality will be seized upon. "Because we're Gray-Nicolls, no one is going to accept any minor flaw," says Alex Hohenkerk, the company's master batmaker, who has worked in their Sussex workshop for 16 years. "At times it feels like we're held to a different standard because of who we are, much in the same way you would hold a Ferrari to a different standard."
And it's not just the big beasts who are growing their own trees. World Class Willow is a young company based in Somerset. "We do everything ourselves," says managing director Mike Kennedy. Their bats are used officially by some cricketers, including Somerset player Will Smeed, and unofficially by others. It's always been an open secret that players collect bats from all over and plaster their sponsor's stickers on them.
Sustaining the business is challenging but Kennedy has faith. "Even with the recession, cost of living, everything else, sport is one thing everyone will make allowances for," he says. "They can't go on holiday, but they'll still give up their Saturdays to play cricket." He has less faith in the industry. "There's been a monopoly in the industry for such a long time with Wright's, nothing against them personally. Trying to create jobs in this industry is quite hard unless you start doing things that haven't been done before, and that's where I've had to focus."
The batmaking industry is a microcosm of our world: a handful of global brands controlling the market and a sprinkling of small firms trying to hang in there. Michael Blatherwick of B3 Cricket has built one of the UK's most progressive batmaking businesses. They offer buyers a unique experience – you can tailor your own blade via an online configuration tool called the "custom bat builder", which boasts more than 600 product options. The company headquarters in Nottingham has a couple of nets next to the workshop where you can try out options. "Our process is unique," he says. "Nobody does it like us."
Blatherwick is a proper cricket man, steeped in the game, a former Premier League all-rounder and Notts second XI player. A successful businessman away from cricket, he is not in it for the money. "It keeps six people in the job and I enjoy it. The problem is we're competing with global brands." He cites a handful of multi-sport behemoths that, he argues, simply use cricket to exploit cheap TV advertising. "They aren't in cricket for cricket. There are very few genuine mid-market batmakers, there's probably only half a dozen of us."
B3 gets its wood from Wright's. They buy double the amount they need, keep the best, and shift the other half on to batmakers in India. "The price of willow has doubled since before the pandemic," says Blatherwick, "plus you've got people outbidding each other, so that's driving the cost up". The result? Stop us if you've heard this one before. The price of the final product goes up. "Willow, importing, utilities, wages – we've had to put the price up quite a bit in the last couple of years."
B3 are far from alone. The price of bats has skyrocketed in recent years. "Top-end bats now often exceed £600 and what might be deemed as a decent quality lower-grade bat is well over £300," said one long-established retailer. "We're told that this is down to willow pricing and there are not many places where willow is available in large quantities in the UK, so in the capitalist world we live in there must be a degree of profiteering where the demand is increasing the price."
Ruggles insists that Wright's primary aim is to keep the price "not exponentially high". He points out that if willow becomes too expensive and drives up the price of a bat, this in turn opens up a scenario in which cheaper alternative products become acceptable. And that would be very bad for business.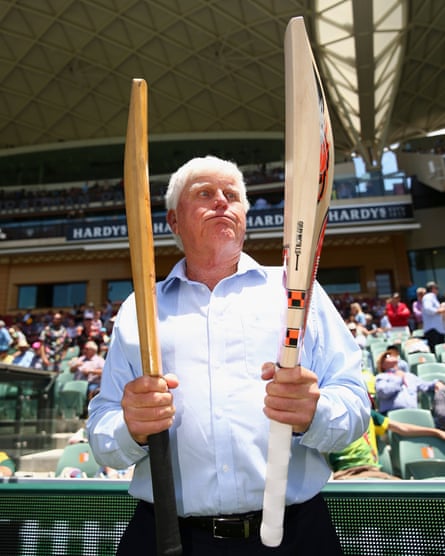 As the laws stand, bats must be made solely of wood. But a study from the University of Cambridge in 2021, which suggests that bats made from bamboo offer a more suitable alternative to willow, has pricked the attention of the MCC's lawmakers. The researchers say bamboo is "significantly stronger than willow and able to hold much higher loads, meaning that bats made with bamboo could be thinner while remaining as strong".
Bamboo is a grass, so the MCC would need to introduce a law change. One key consideration would be maintaining the balance between bat and ball – hence why they brought in those restrictions on bat depth in 2017. The study asserts that a bamboo bat, being 22% "stiffer" than willow, would increase the speed at which the ball would come off it. In a game where that balance teeters ever further towards the bat, this would be problematic.
Nonetheless, their statement on the bamboo question will have been noted with interest in a certain corner of Essex. "Sustainability is a relevant topic and this angle of willow alternatives should also be considered," says the MCC. "With the researchers stating that the most suitable types of bamboo grow abundantly across China and that low-cost production could make bamboo bats a viable and ethical alternative to willow, this could provide a pertinent angle for further research and the possibility of reducing the cost of producing bats in different areas of the world."
While Wright's provide their willow to most of the UK's boutique brands, Ruggles has little truck with the industry's obsession with so-called "top-end" willow. "The problem with boutique brands is that they just want the top stuff, but we have to sell the whole tree. I think we've got eight boutique brands as customers but we can't have any more because we haven't got enough of the good stuff. Grade 1 – you're only buying it because it looks pretty, they can break just as quickly as less pretty bats."
It's tempting to blithely characterise the UK scene as a scrap between unshiftable powerhouses and doughty stayers. But, for all the power and influence of a Gray-Nicolls, there remains, at the core of its output, an essential devotion to the craft which sustains it.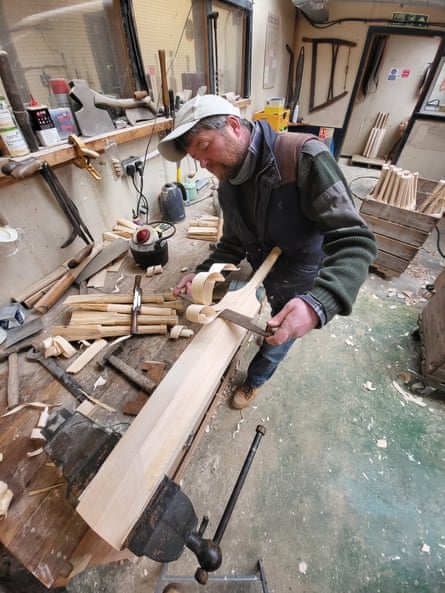 Gray-Nicolls still treats each bat separately, eschewing the Computer Numerical Control machines favoured by some other big brands. "We really hone in on the piece of wood," says Hohenkerk. "We still use an element of machinery. We use spindle moulds, which do bulk timber removal, and then shape the bat by hand with hand tools, and sand it down to the right shape that we want."
Hohenkerk reckons the quality of cricket bats has never been better. "Batmakers have really tightened in on what we're looking for. If I make six bats for Ollie Pope, all six of them are absolute guns. Much of it's down to player development. Everyone is so knowledgeable about what they want."
Even once the final product is stickered up, Hohenkerk will grab a final look before it goes out. "It still makes me smile. It's nice to know that I'm putting as much of myself into this as I can, so someone else can get as much out of it at the other end."
The craft attracts obsessives. The workshop where Andrew Kember had made his Salix bats for more than three decades is a mythical place. His life's work is right here and he is a perfectionist. He talks of dragging himself back to the workshop at 3am to unsticker bats and start again. Gray-Nicolls produce up to 55,000 clefts a year; if Kember and his partner finish 2,000 bats a year, that's a good return.
"A good bat should be an extension of your hands," he says. "The shape of the handle is critical. And of course the overall shape and weight. People like using bats at around 2lb 8oz – and we would love them to use 2lb 11oz bats because we could make the bats quicker. But the retail trade is not going to take large numbers of bats above 2lb 10oz. You've got to be prepared to scale the bat down, but it still has to capture the imagination."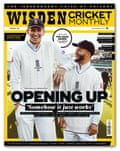 Salix has nearly gone under many times, yet is still standing. Threats to survival come from all angles, from soaring costs and cheaper global alternatives to the undulating popularity of the game itself, all while multinational brands hoover up stock and pay big cash to secure the biggest names; one England batter recently signed a bat deal for £250,000.
But batmakers are not in it for the money. They work in the dream business. Cricketers of all levels labour in a state of becoming, forever searching for new and better ways of doing the thing they love. Batmakers understand this, because it's what they do themselves. A good bat opens new worlds of possibilities. If you've ever hit one clean out the screws, you will know. It's a feeling that sustains a whole industry.