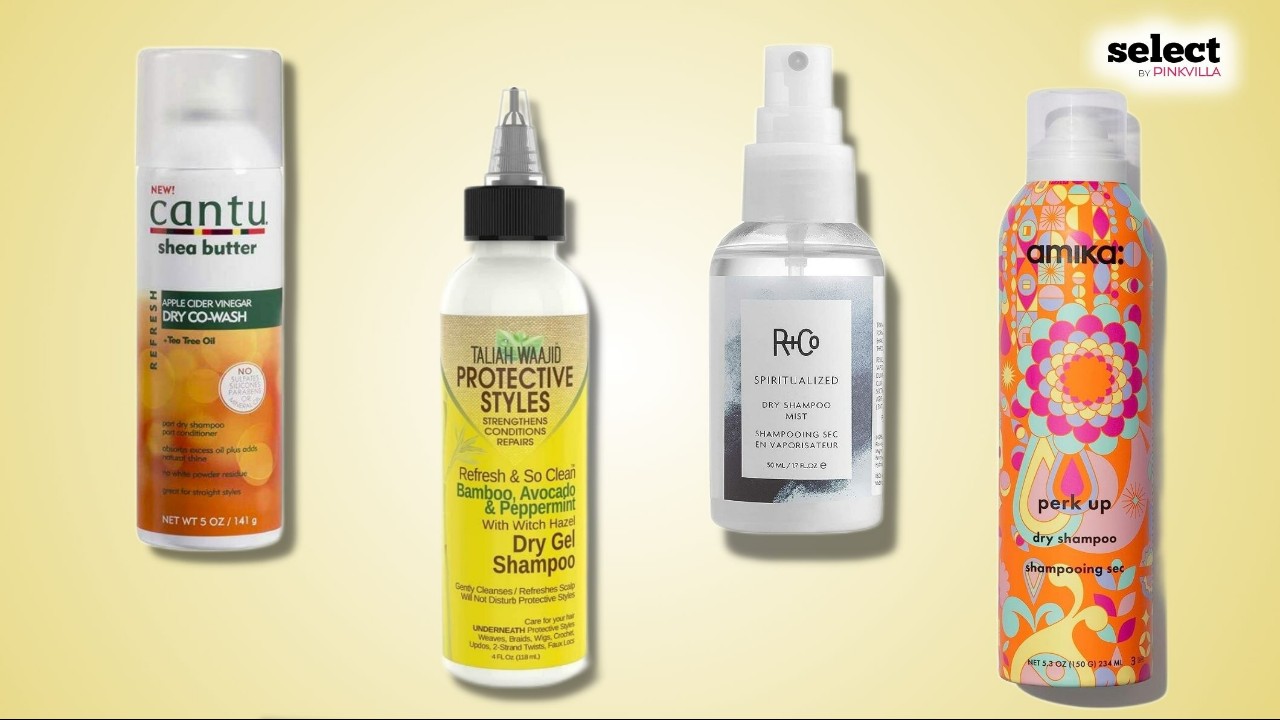 The products curated for this article are independently chosen by the
editorial team. If you make a purchase through the links mentioned below, we may receive a commission. Check out our product
research & curation process
Braids, faux locs, and twists make you look fancy and cool, but what counts is their maintenance and scalp care. Hence, we got you covered with the best dry shampoos for braids that will help you take utmost care of your precious mane. Before you kickstart your shopping haul, allow us to introduce them to you. To start off, dry shampoos are used not just to cleanse your scalp but also impart luster and boost manageability. Besides, they absorb excessive sebum and sweep out dirt, dust, grime, and impurities dwelling on your scalp. Furthermore, they are available in a variety of options. You can find powder-based shampoos, clear liquid shampoos, solid gel shampoos, liquid herbal shampoos as well as mists to make your braids look a lot more lustrous and voluminous (1). What makes them the best companion for braids is the fact that it is nearly impossible to maintain the shine and health of braided hairstyles with regular shampoos that only help remove buildup. They are super easy to use and indeed a game-changer in the work of haircare. 
Talking about the ingredients, dry shampoos are usually crafted from plant-derived and organic ingredients like aloe vera, tulsi, neem, and hibiscus flower as they tend to be vital for hair growth and conditioning (1). So, for all those who wish to embrace healthy braids and scalps without burning a hole in their pocket, ahead is our fanciful list of the best shampoos for braids that you should think of investing in.
Our top picks
Best for Color-treated Hair
Best for Dandruff-prone Hair
9 Best Dry Shampoos for Braids That You Should Invest in
Our very first recommendation is Amika's talc-free dry shampoo that is enriched with the goodness of sea buckthorn, omega fatty acids, and other potent ingredients. In addition, it is rich in starch, light in weight, and highly absorbent to sweep out dirt, grime, oil, and odor from your braids. Furthermore, it boosts elasticity and aims to provide desirable hydration to your hair as well as the scalp. The best part? It absorbs excess sebum and leaves no white residue behind.
Pros
Vegan
Natural ingredients
Cruelty-free
Available in 2 sizes
Color-safe
The next on our list is Hair Dance volumizing dry shampoo that is crafted without any harsh chemicals, talc, baking powder, parabens, and phthalates to help you take good care of your braids. What makes it earn more than 10 thousand ratings on Amazon is the fact that it absorbs excess oil, refreshes your braids, and instantly adds volume to any hairstyle. Topping it all off, it exudes a mesmerizing lavender and grapefruit fragrance that will keep you drooling.
Pros
Budget-friendly
Vegan
Cruelty-free
Easy to use
Travel-friendly
Available in 3 sizes
While researching for the best shampoo for braids, we came across this one from Beauty By Earth. It blends seamlessly with your colored hair and prevents your hair shafts from becoming parched. Moreover, this shampoo is a USDA organic certified hair care product that is completely free from parabens, sulfate, gluten, and phthalates. What left us impressed was its ability to revitalize your braids from roots to tips. Plus, it adds volume and refreshes your scalp.
Pros
Absorbs excess oil
Cruelty-free
Smells like lavender
Lightweight formula
For all those patrolling the internet for an impeccable braid shampoo spray, then R+Co Spiritualized dry shampoo mist has to be your ideal pick. What made it garner more than a thousand ratings on Amazon is its ability to leave your hair and scalp clean in a jiffy. Secondly, its revolutionary micellar formula makes it a top-notch cleansing powder with zero chances of powdery residues. The most impressive part — it soothes irritated and itchy scalp and nourishes it simultaneously.
Pros
Improves hair health
Gluten-free
Cost-effective
Travel-friendly
Taliah Waajid's dry gel shampoo is what you need in your hands to keep your braids clean and well-nourished for a prolonged period of time. What makes this shampoo so special and distinctive is its luxe blend of bamboo, avocado, witch hazel, and peppermint. Additionally, the gel-like formula helps in gently cleansing and refreshing your scalp. Let us also tell you that this is an apt shampoo for box braids, crochet, wigs, weaves, twists, and faux locs.
Pros
Lightweight
Mesmerizing scent
Removes product buildup
Inexpensive
Based on our team's research, this plant-based dry shampoo from the brand Act+ Acre is loved for its oil and odor-absorbing abilities. Addedly, it works well toward refreshing your braids, volumizing your hair, and enhancing texture. What left us in awe is the fact that it is enriched with fulvic acid, rice, and tapioca powders that aid in delivering over 65 minerals straight into your hair follicles for restoring the microbiome. Another good thing — this no-rinse shampoo for braids is suitable for all hair types and colors.
Pros
Fragrance-free
Vegan
Cruelty-free
Detoxifies oily scalp
Gender-neutral
Travel-friendly packaging
We glanced through the features of this braid shampoo from Cantu and were surprised to see that it is a 2-in-1 hair care essential that works as both, a shampoo and conditioner. It not only cleanses your scalp but also conditions your hair follicles like magic. Secondly, it is loaded with hair-nourishing ingredients like apple cider vinegar, shea butter, and tea tree oil that facilitate quick oil absorption. The cherry on the cake — this shampoo adds luster and makes your braids look nothing but phenomenal.
Pros
No white powder residue
Easy application
Paraben-free
Silicone-free
Cons
Might not suit very thin hair
Another impeccable hair care essential on our list is ORS Herbal Cleanse dry shampoo that is known for its soothing and cleansing properties. It is one of the go-to shampooing alternatives when you are running out of time. It flawlessly cleanses your scalp and keeps dandruff and dry, itchy, and irritated scalp at bay. Secondly, it is the best shampoo for knotless braids, twists, and locks. In a nutshell, it is a cost-effective product to rely on for additional hair revitalization.
Pros
Cruelty-free
Free from sulfates
Great fragrance
Prevents split ends
Our findings show that Evo's Water Killer dry shampoo is the best solution for leaving your braids nourished and touchable. In addition, it is yet another 2-in-1 hair care product that works as a dry shampoo and styling spray. So for all those who wish to add volume, and shine while maintaining good scalp and hair health, this is what you need to incorporate into your hair care regime at the earliest.
Pros
Doesn't leave residue behind
Easy to spray
Absorbs oil
Ideal for all hair types
How to Use Dry Shampoo?
That was our comprehensive list of the best dry shampoo for box braids, twists, and crochet braids. Now, let us run you through our detailed buying guide.
How to Choose the Best Dry Shampoo for Your Braids?
Here are a few aspects that you should consider before splurging on the best dry shampoo for braids – 
Hair Type: Make sure that you analyze your hair type before investing in any dry shampoo for black hair braids or colored twists and locks. Go through the formulation and check whether the shampoo is meant for your hair type. For those who possess fine hair and sensitive scalp, they may invest in a shampoo with a gentle and mild formula. Do not purchase any shampoo that is not meant for your hair type. 
Ingredients: Pay heed to the list of ingredients mentioned on every dry shampoo you are planning to get your hands on. It is advisable to splurge on the one that is enriched with hair-nourishing and organic ingredients like omega fatty acids, plant-based extracts, apple cider vinegar, shea butter, and tea tree. Avoid purchasing shampoos that contain harsh chemicals, toxins, and artificial substances and scents. 
Formula: Always vouch for a dry shampoo that is vegan and cruelty-free. Do not purchase shampoos that contain sulfates, parabens, gluten, talc, baking powder, phthalates, or any harmful ingredients. Secondly, it is recommended to rely on a shampoo that is light in weight and meant to keep your braids nourished for a prolonged period of time.
Type of Dry Shampoo: There are a variety of dry shampoos for braids available on the market. Some are in the form of powder, whereas the rest are in the form of gel or liquid. All dry shampoos are effective but it is advisable to rely only on those that meet your needs and suit your braid style. For quick conditioning, it is advisable to rely on a dry shampoo spray facilitating easy and mess-free application.
After taking note of the above-mentioned aspects, get to know how to use the best dry shampoo for braids accurately. 
Below are a few steps to use dry shampoo for braids, box braids, and crochet braids – 
For Braids or Twists 
Shake the dry shampoo bottle well before application.
Begin applying it on your scalp, tresses, and areas that are more prone to accumulate dirt, sebum, and impurities. 
Massage it into the base of the braid.
Wait for a minute or two. 
Wipe residues with a damp cloth or brush your braids a little if required. 
For Box Braids
Pick a hydrating dry shampoo to nourish and moisturize your box braids. Shake the bottle well. 
Hold the bottle at least 12 inches away and begin spraying it onto your scalp. 
Keep lifting your braids for even and accurate application.
Wait for a minute or two and begin massaging your scalp.
Use a damp cloth or towel to blot your head. 
You may apply a sun protectant if required. 
For Crochet Braids
Begin separating your braids before spraying your dry shampoo so that it reaches your scalp.
Spray the dry shampoo onto your scalp and hold on for 2 minutes. 
Use your fingertips to massage your scalp. 
Once done, blot it with a cloth or towel.
Please note that it is not feasible to spray or use any of the dry shampoos extremely close to your scalp as it might make it greasy or leave a residue. 
Once you acquaint yourself with the right steps of using dry shampoo for box braids, twists, or crochet braids, roll your eyes over to know their side effects.
Side Effects of Dry Shampoo
Following are a few side effects and risks of using dry shampoo on braids if you use it inappropriately or way more than required. 
Excessive usage of dry shampoo may irritate your scalp, cause allergic reactions, or lead to hair loss.
For those suffering from scalp dermatitis, they may encounter redness, flaking, or burning sensation.
It may clog your hair follicles which may lead to buildup of dirt, oil, and impurities. 
It may strip natural oils and moisture off your hair, leading to discomfort, itchiness, and inflammation. 
Ineffective cleansing may make your braids stinky and cause bacterial growth. 
Dry shampoos featuring a lighter shade may leave a whitish residue on dark hair tones, whereas tinted ones might affect the vibrancy of your hair color. 
Well, that was all about the risks involved, but there are also some alternatives to dry shampoos.
Alternatives to Dry Shampoo
Here is what you can use on braids if you don't have dry shampoo at your hands – 
1. Baby Powder: The best alternative to dry shampoo is baby powder. Baby powder is renowned for its mind-boggling ability to absorb excess oils from your scalp. 
2. Corn Starch: Those possessing gray, blonde, or light-colored hair, may apply cornstarch for effective removal of buildup. On the other hand, for the ones with darker hair colors, it is advisable to mix a little bit of cocoa powder or cinnamon before applying. 
3. Apple Cider Vinegar: Apple cider vinegar is a flawless cleansing agent. All you need to do is mix a drop of vinegar per ounce of water and pour it into a spray bottle for easy and mess-free application.
Besides these, you can also think of preparing a dry shampoo at home. Below are a few tips and techniques to do the same.
DIY Dry Shampoo for Braids
Following are a few DIY techniques to prepare a dry shampoo for braids at home – 
Method 1: Use 2 tablespoons of arrowroot powder and additional coloring powders and mix a few drops of essential oil. 
Method 2: Mix 8 tablespoons of cornmeal with 1 tablespoon of salt. To make your mixture a little scented, put dried rose or lavender petals into the powdery mixture. 
Method 3: Blend 2 tablespoons of oatmeal with 2 tablespoons of baking soda and massage it onto your scalp. 
Method 4: Mix 1 tablespoon of cornmeal, orris root, and finely ground almonds and apply the mixture like a dry shampoo.
Tada, you are done! With these 4 methods, you can easily prepare your very own dry shampoo at home.
That was all about the best dry shampoos for braids that you should think of snagging right away. These dry shampoos are indeed a must-have to take good care of braids and of course, the scalp. Firstly, they are not only renowned for their exceptional ability to absorb excess sebum but also serve as a preferable option to optimize the manageability of your braids, locks, and twists. Moreover, they deeply cleanse and nourish your scalp and make your hair look a lot healthier and lustrous. So, without much ado, get your hands on any of the above-mentioned shampoos and drool over your own hair in no time. Happy shopping!
FAQ's
How often should I use dry shampoo on my braids?
Apply dry shampoo on your braids only two times per week.
Dry shampoo vs. water-based refreshers: which is better for braids?
Dry shampoo is better for braids as it aids in texturizing, and volumizing slippery hair, while controlling static.
Will dry shampoo leave residue on my braids or scalp?
Yes, but you can brush it off with a damp cloth, towel, or brush.
Can dry shampoo replace regular hair washing?
No, dry shampoos are only meant for sweeping out dirt, grime, and impurities dwelling on your scalp. They can't replace regular washing.
Are there any specific dry shampoos that work best for tightly braided styles?
Yes, ORS Herbal Cleanse dry shampoo works best for tightly braided hair.
Is it safe to use dry shampoo on synthetic hair extensions or braids?
Yes, it is safe to use dry shampoo on synthetic hair extensions or braids as it helps in volumizing them.
How do I remove dry shampoo buildup from my braids?
You may use a brush or damp cloth or towel to remove dry shampoo buildup from your braids.
Why Trust Pinkvilla
Alvira, our certified hair care expert, loves to investigate all things related to hair care. Recently, she carried out thorough research on the best dry shampoos for braids. Firstly, its formulation and cleansing abilities won her over. Secondly, she believes that dry shampoos are the best solution to maintain healthy scalp and braids. Amidst her search, Hair Dance Volumizing dry shampoo got her maximum attention. She loved its volumizing and braid-refreshing abilities the most. You can also take a look at the rest of her top picks and bring home the one that suits your braid style the best. 
Our product experts study the specifications of every product we suggest and try them out to bring what's proven to be worthy of your money, time, and energy. We also have subject matter experts from various fields like Fashion, Skincare, Haircare, Home Decor, and Health & Fitness onboard to make sure our suggestions are credible and trustworthy. You can trust select to be your faithful shopping guide for all the right reasons!
Author BIO
With a keen eye for detail and a passion for hairstyling, Alvira is a certified Hair Expert who brings the latest tre More