Dragon fruit is a bright-pink tropical fruit that offer numerous health advantages. Know benefits of adding this powerhouse of nutrition in your diet.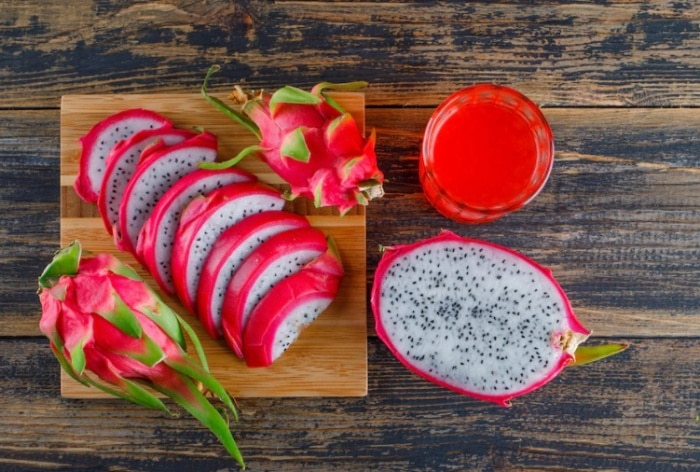 Dragon fruit is a tropical fruit that has become increasingly popular in recent years. Though some people enjoy it for its unique taste, it has been proven to offer numerous benefits. Belonging to the cactus family, it goes by many names, including pitaya, pitahaya and strawberry pear. But, its generic name is what the locals call it throughout Southeast Asia- dragon scales, dragon crystal, dragon pearl fruit or green dragon.
Dragon fruit may look exotic, but its flavours are similar to other fruits. Its taste has been described as a slightly sweet cross between a kiwi and a pear. Also, it is low in calories, high in fibre and provides a good amount of vitamins and minerals. It is a powerhouse of nutrition equipped with many health-benefiting properties. If you need some convincing, here are a few reasons as to why dragon fruit is beneficial for you.
Health Benefits of Dragon Fruit
Low in Cholesterol
It is extremely low in terms of cholesterol, as well as saturated and trans fats. The fruit has been proven to prevent cardiovascular diseases and is beneficial for heart health. Moreover, the seeds of the fruit are loaded with omega-3 fatty acids which are essential for one's well-being.
Rich in Fibre
Dragon fruit contains prebiotic fibre that promotes the growth of beneficial bacteria in your stomach -potentially improving gut health. Since it's a good source of dietary fibre, therefore it is not only beneficial for heart, but also helps in maintaining blood pressure and weight.
Enhances Skin Glow
Because of its high antioxidant content, the exotic fruit is commonly used in natural remedies for skincare. Making a paste of dragon fruit flesh and applying it regularly on the face can help in enhancing the skin texture, slowing down the process of ageing, and treating acne and sunburn.
Vitamin C
Since it is a good source of vitamin C, it helps in boosting immunity, thereby keeping you from getting sick. It also helps in producing collagen, which makes your teeth stronger and promotes healthier and glowing skin.
High in Potassium
Dragon fruit is loaded with essential minerals, including potassium which plays a key role in maintaining water content. Besides, potassium is extremely vital for diabetic patients, as it may help in protecting heart health and managing blood sugar levels naturally.
Dragon Fruit is frequently available in Indian market, make the most by including it in your diet.