The kitchen works as a destination in many homes and is in near constant use by the whole household, as a space for cooking, eating, socializing, and even doing homework – so it's no surprise that it ends up feeling disorganized and overwhelming.
One of the hardest things to contend with when organizing the kitchen is how frequently you're tidying the room and how messy it continues to be, but there may be some key kitchen organizing mistakes that you're making that are, in fact, quite common.
It could even be that you have some great organization solutions in your kitchen that aren't working for your lifestyle or household. Thankfully, with the assistance of some organizing experts, we have rounded up some great ways to help you get control back in this hardworking space.
 7 Things organized people have in their kitchens
Kitchens are where kids congregate after school, they're key for breakfast, lunch, and dinner, particularly with so many people now working from home.
Once you take in these potential uses for the kitchen and so many more, there's no wonder why the kitchen is one of the hardest places to keep organized. It's a hard balance to strike between aesthetics and making everything easily accessible. Here are seven features you'll find in the most organized kitchens.
1. Cabinets that reach the ceiling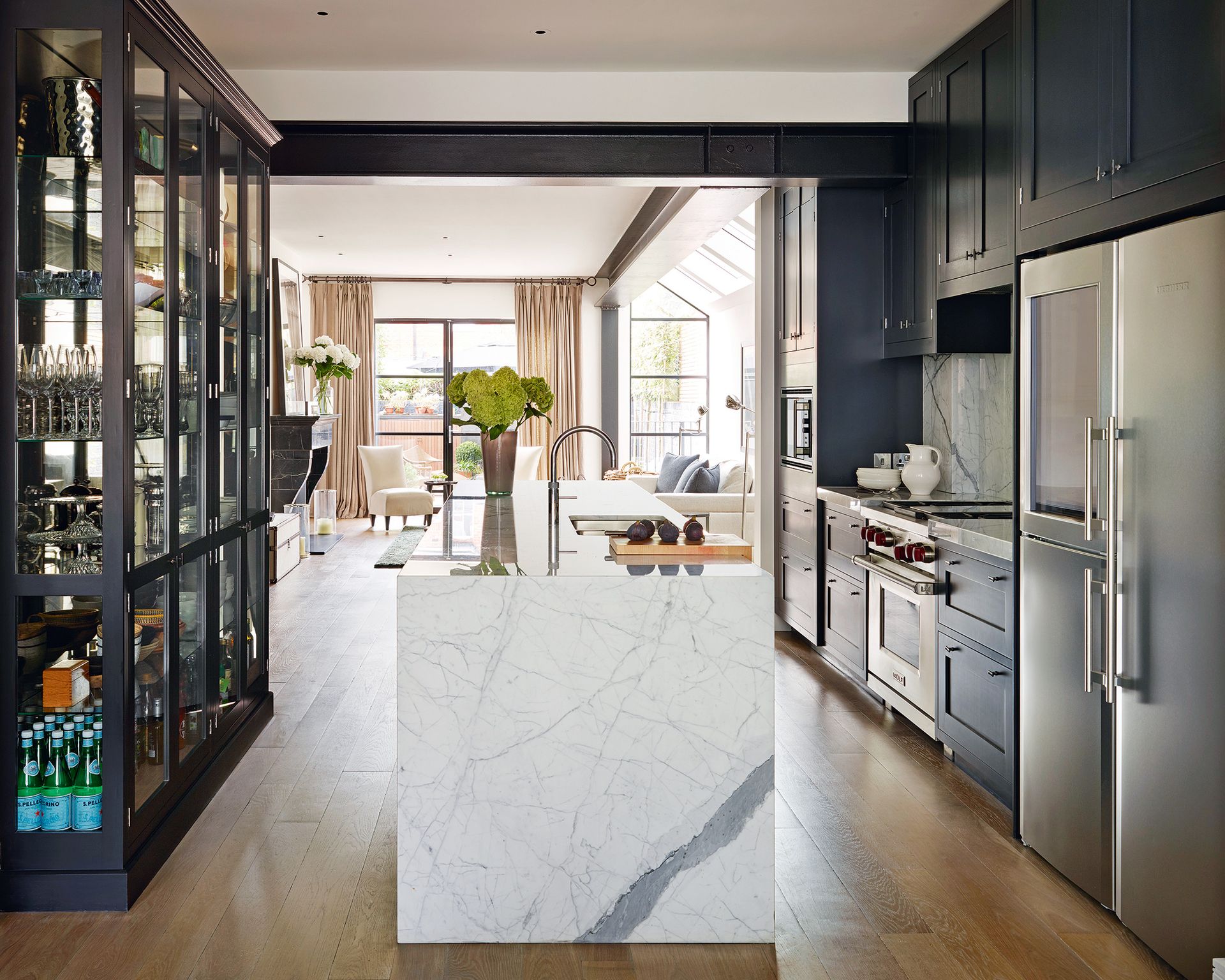 Nick Valentino, VP of Operations at Bellhop, makes clear that there are ways to make the most of space and still be able to reach appliances: 'It's always important to maximize the use of space in kitchens, especially smaller ones. This is why I always recommend cabinets that go all the way to the ceiling whenever possible.'
If you're concerned about being able to reach the top, Valentino also recommends a footstool. If bespoke kitchen cabinetry isn't a thing for you, this 77" kitchen cabinet from Wayfair may be just the thing, combined with this two-tier lightweight collapsible step from Amazon that folds away easily.
2. Lazy Susan turntables
Alternatively, your bug-bear may be within those dreaded cabinets; no matter how many times you carve out an afternoon to go through the cabinets, they remain a mess. Sound familiar?
Ally Raven of Organized Ally has a few suggestions, especially for those products that don't come in regular shapes: 'For the kitchen, the best product that has a wide array of uses is a turntable or Lazy Susan.  
'These can be utilized in the pantry to hold sauces, in the refrigerator to hold condiments, and even in cabinets to hold plastic containers. They come in all different sizes so they can fit almost any space.'
Lazy Susans and turntables can be so handy, and they also come in a range of styles and sizes to fit your kitchen. Perhaps you'd rather one that was compact and easy-clean like this stainless steel two-tier lazy Susan from The Container Store.  
Meanwhile, a Lazy Susan with dividers might help you to keep your condiments, herbs, sauces and snacks tidy, like this clear Lazy Susan that comes in multiple sizes from The Container Store. 
3. Storage baskets and bins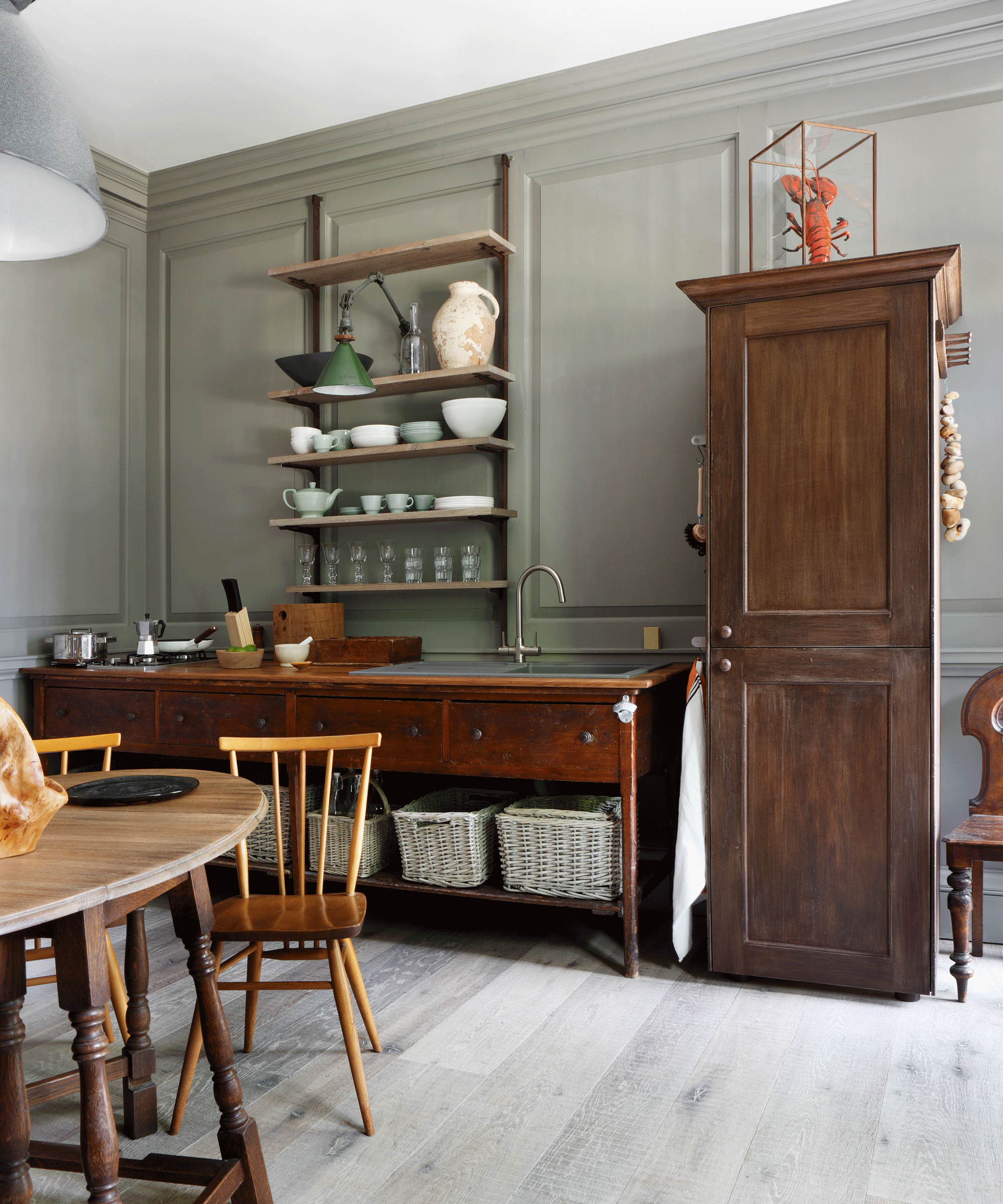 As the kitchen serves all of the family and can be multifunctional, one handy way of organizing things is to use baskets. Baskets are normally thought of as something for the bedroom, living room, or playroom. But they don't have to be. Baskets can also be a very helpful addition to the kitchen. 
Professional organizer Diane Quintana offers: 'Baskets are great options. The size and depth of the basket depend on what you want to contain. I never recommend using anything too deep because things get buried and it makes it difficult to easily find what you're looking for.
'The Container Store is my go-to shop for baskets. They always have a wide variety.'
These clear containers from The Container Store come in different sizes and come with lids, so keep your products tidy, fresh and visible for easy access. 
Diane is a certified professional organizer in chronic disorganization based in Atlanta, Georgia. She earned a hoarding specialist credential from the Institute for Challenging Disorganization and has co-authored a book called: 'Filled Up and Overflowing: What to do when life events, chronic disorganization or hoarding go overboard.'
If, like mine, your pantry is actually the place that ceases to stay tidy, we also have a few solutions for you. In the interest of saving space but also making your storage look beautiful, these black wire stackable baskets from The Container Store may be perfect for you. They come with a label as well as a space to be able to grab and go rather than having to unstack every time you need something. 
Alternatively, if you're looking to make your cabinets work extra hard, these metal hanging under-shelf baskets from The Container Store are ideal. This would help you free up space as well as make your cupboards look far tidier. And not only do they come in different colours, but also in different sizes which makes them incredibly versatile.
4. Dish towel storage
A dish towel is one of those everyday essentials that we would rather avoid having on show, and even if you let your dishes air-dry, there's still the matter of the hand towel.
The best way to prevent these from making your kitchen appear disorganized is to have a designated spot for them rather than having them hang over the sink. 
Hooks are one great solution and can be placed out of sight behind the door or on the side of a cabinet. You'll be surprised how quickly it will make a difference to the room. Perhaps this modern style hook from Wayfair is right for you. Alternatively, if you prefer a traditional style, this row of hooks from Wayfair may work for you.
5. Sink covers
No matter how tidy you are or how organized your kitchen sink area is, dishes get dirty and you aren't always able to clean them immediately. With that in mind, a sink cover may be just the answer to your messy kitchen prayers. The main benefit to these covers is that they can sit across your sink and cover up the dishes, while simply looking like a feature of the kitchen.
A couple of bonus benefits though if you purchase this sink cover from Amazon, are that it can also be used on the stovetop, as a chopping board, is waterproof, and comes in a range of sizes to suit your countertop. When not in use, they slot neatly in the side of a kitchen closet or pantry.
6. Soap and sponge organizers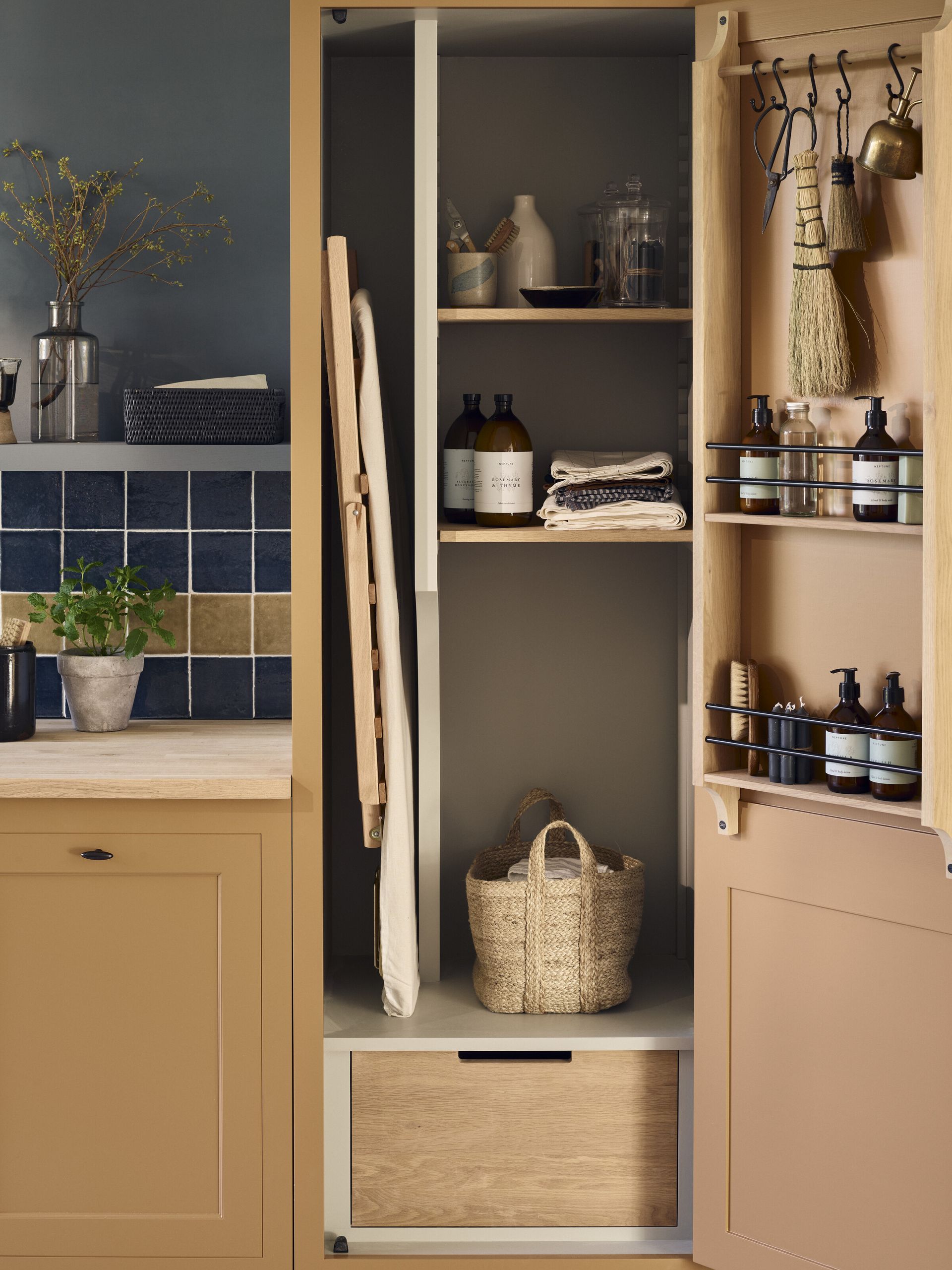 In every room, one of the easiest mistakes to make is to leave things out on the surfaces. Typically it's due to laziness or forgetfulness, and these things have a place where they actually live, but the kitchen is one of the few places we leave some things out intentionally.
Having a cluttered worktop immediately makes a space appear less organized. So rather than keep the sponge, washing up liquid, and other dish-cleaning utensils right by the sink, why not invest in a waterproof organizer for them, like this silicon tray from Amazon that lives in a drawer or cabinet by the sink? This keeps kitchen counters clear, making for a more streamlined aesthetic and easy cleaning.
'I have a small kitchen, so the less on show, the better. I was inspired by a (very organized) friend of mine who keeps her dish soap and sponge in the kitchen cabinets under the sink,' says Millie Hurst, Solved editor at Homes & Gardens. 
'I use an over-the-cabinet-door storage rack, at Walmart, for dish sponges, dish soap, paper towels and bin bags. So these essentials are easy to grab when needed but take up zero space on the counter, making the whole kitchen feel less cluttered when I'm cooking.'
Millie Hurst is Section Editor at Homes & Gardens, overseeing the Solved section, which provides readers with practical advice for their homes. Millie has written about and tried out countless cleaning, organizing and decluttering hacks in the six years since she became a journalist, and has worked in both London and New York. 
7. Suitable crockery storage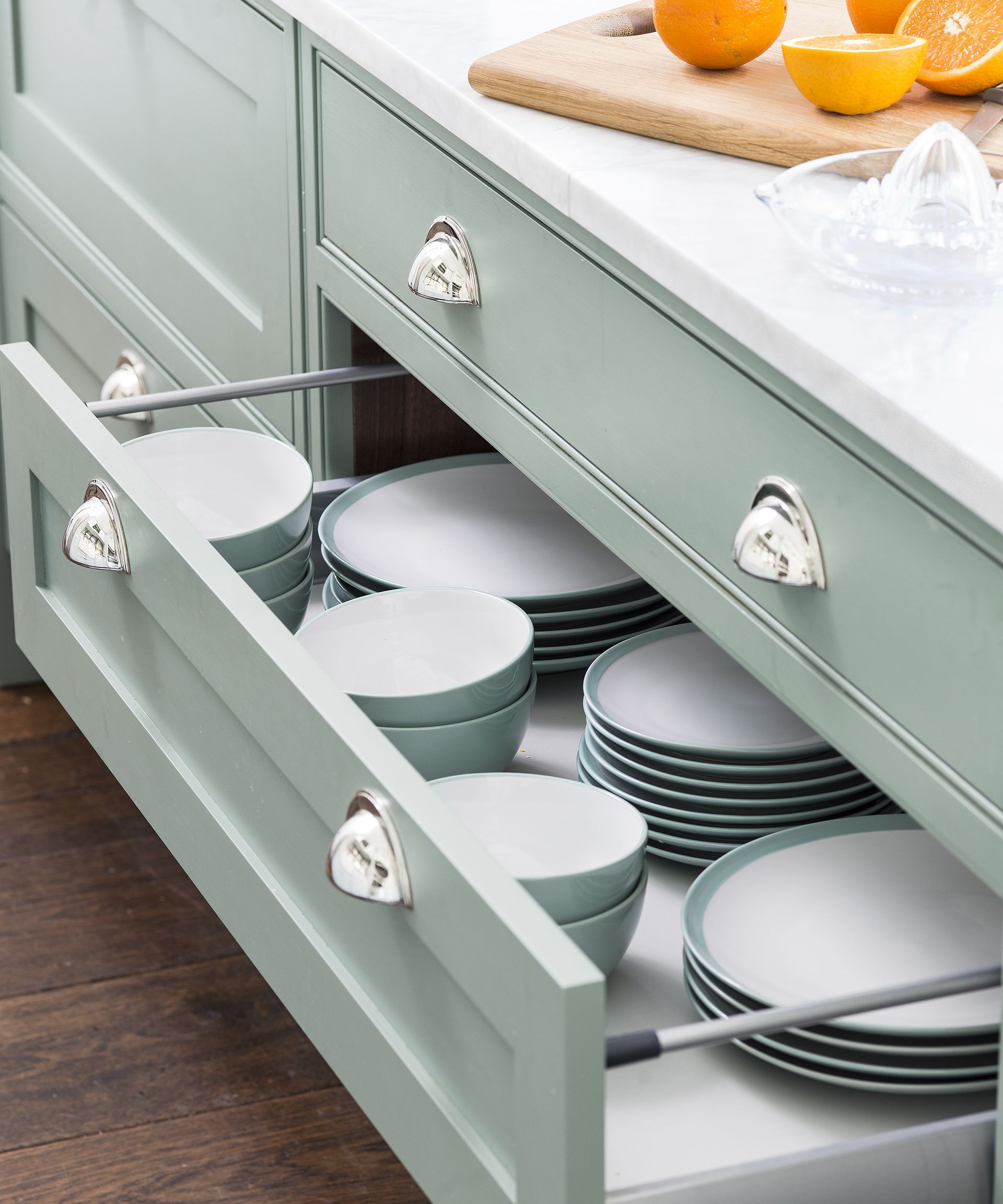 We often forget about organizing plates bowls and other forms of crockery in the kitchen – we accumulate them but rarely declutter the excess, and meanwhile, we use the same pieces repeatedly as the old ones gather dust at the back.
Once the old crockery has been taken to the skip, a thrift store, or repurposed, the next step is to organize what's left. 
One option is to get bespoke cupboard storage designed for your plates to fit perfectly. Alternatively, display shelves can work perfectly if you have the space, like this wall-mounted kitchen storage organizer from Amazon that comes in different sizes.
FAQs
How do I know which products to buy?
All kitchens need to do slightly different things depending on the people who own them and their lifestyle. A key place to start is by going through everything you own and deciding what to keep and what to get rid of. Once you've gone through this step you're on the home stretch. 
Now you can organize things according to category and decide where to store them based on where you're most likely to use them in the kitchen, and from there which products you'd like to purchase and which would work best for you should come with ease. 
What can I do to organize my small kitchen better?
There's no doubt that keeping a small kitchen organized and decluttered is a great undertaking. The primary thing would be to keep surfaces clear. Don't let things accumulate on the worktop, stay on top of the washing up and, it's certainly easier said than done, but limit shopping. With some in-cupboard solutions, such as some baskets and a few Lazy Susans, there's no reason why you're kitchen wouldn't look neat and tidy, so long as you can tidy up after yourself, avoid clutter and limit unnecessary utensil shopping.
---
All in all, so long as a kitchen is in use, it's bound to get a little untidy from time to time. But so long as everything has its own place and all users of the kitchen know where things should be kept, you're unlikely to go wrong with these solutions.